What happens when a customer visits your dispensary only to discover that the strain they saw online is no longer available? They go to your competition across the street.
Keeping your online menu updated can be a huge challenge for cannabis retailers. It's a time consuming and inefficient task when done manually. Automating your online menu to match live inventory in your point-of-sale system not only saves you time on data entry, but also provides customers with more accurate information and seamless shopping experience.
In this post, you'll learn how to integrate your Leafly dispensary menu with Flowhub in order to show real-time inventory and pricing for every strain and product.
What is Leafly?

With more than 16 million monthly visits, Leafly is the world's leading source for consumers to find cannabis. According to Chief Product Officer, Jason Makuch, Leafly's mission is to create a world-class consumer experience for cannabis product discovery and to empower cannabis businesses to attract and retain loyal customers through advertising and technology services.
Having an online dispensary profile and menu on Leafly is an easy way to drive localized visibility to a targeted audience of cannabis consumers.
Flowhub has partnered with Leafly to check one more thing off your to-do list. The direct integration allows you to send "for sale" inventory data directly to your Leafly online menu through an automated API. An API, or Application Programming Interface, is a digital pathway between two software platforms, and what makes updating your menus seamless.
Flowhub's point-of-sale integration with Leafly is different from many of our competitors. Why? Other POS platforms will require you to manually push data to Leafly on a daily basis to update your menus.
Flowhub's integration is hands-free and automated so that Leafly is consistently pulling your product data throughout the day. Once your Flowhub integration is set up properly, maintenance of your Leafly profile is minimal, giving you more time to concentrate on other aspects of your business.
Check out Leafly live menu examples from these amazing cannabis dispensaries:
To get started, please have an Account Admin email api@flowhub.com or call (844) 356-9482.
For additional assistance from the Leafly team, email techsupport@leafly.com or search the Leafly support site.
What Flowhub data integrates with Leafly?
Leafly reads specific information from your Flowhub inventory to accurately display details about what is currently available at your store. Please note: Your Leafly menu will only display Flowhub products within "for sale" inventory rooms. The below data points are fed through Flowhub's open API and updated in real time as changes are made:
Integrated Flowhub data points
Product Name

Product Description

Product Photo

Product Price

Product Category

Product Brand

Quantity Available

Units of Measure

THC Percentage

CBD Percentage
Here's an example of what a populated Product Profile looks like in Leafly:
Leafly integration best practices
To get the most out of the integration and to help your customers make informed purchasing decisions, it's important that your Leafly online menu provides as much accurate and complete information as possible.
Let's go over how to set up your Flowhub inventory data for success and best practice recommendations for improving an empty Product Profile, like this one:
Product Name
The Product Name displayed in your Flowhub product catalog is what will be displayed on your Leafly menu. Our recommendation is to choose a naming convention for your products that is not only clear to your staff, but also clear to your customers.
For example, abbreviating the strain Durban Poison as 'DP' might be clear to the staff that directly handles and manages your inventory, however, your customers will not necessarily know what 'DP' stands for. Our best practice recommendation in this scenario is to use the full name of the strain when entering it into your Flowhub Product Catalog and Strain Catalog so it displays the full name of the strain on your Leafly Product Profiles.
This best practice also goes for your non-medicated products. Say your dispensary sells branded t-shirts that you would like to be listed on your Leafly profile under 'Accessories'. To display your color options, listing black as 'Blk' in the Product Name could be misconstrued as 'bulk' or something else. When picking a product name, ask yourself the question, "Would this name be clear if I didn't know anything about the product?"

Additionally, Leafly has a deep database of strains that help consumers make a more educated decision. If Leafly can identify a strain in your Product Name that exists in the Leafly's database, it will list the strain profile under your Product Profile, providing your customers with even more information, as in the example below:
Product Description
One e-commerce study done by Nielson Group found that 20% of purchase failures are potentially a result of missing or unclear product information.
The descriptions and photos attached to products in Flowhub are what will be displayed in the Product Profile in Leafly. We recommend using the Product Description field to increase credibility and educate your customers about the products you offer, much like your budtenders would in a face to face setting.
A study of 2018 cannabis trends by BDS Analytics found that marketing the desired effects of products and strains to cannabis consumers is on the rise.

As the universe of products grows and consumers become more educated, brands pursue consumers interested in specific effects, rather than just celebrating cannabis in general. The average number of reasons consumers provide for consuming cannabis is eight — including everything from 'have fun' to 'manage anxiety'. This offers brands a wealth of marketing opportunities.

Source: BDS Analytics
Make your shop stand out to customers online by describing specific effects of your products like "sleep" or "energy".
Product Photos
Leafly utilizes the photos in your Flowhub Product Catalog on your Leafly Product Profiles. Over 75% of e-commerce shoppers are heavily influenced by product photos when browsing online, according to Weebly. Create a more visually interesting and engaging profile to your customers by providing dynamic product photos that really stand out. We recommend hiring a professional photographer to best showcase your brand or reusing photos from your supplier. However, if you plan to take your own product photos, maximize their appeal with these cannabis photography tips from Leafly:
Experiment with contrasting backgrounds.
Pay close attention to your lighting.
Utilize multiple angles.
Stabilize your camera with a tripod.
Try a macro lens with a DSLR camera.
Once your photos are attached to the products in your Flowhub Product Catalog, your Leafly integration automatically pulls and formats them to display on your Product Profiles. We recommend doing the work up front to get a bigger return from your potential online customer base later.
Product Brand
Similar to your Product Name, your Product Brand is also pulled from the Product Catalog in Flowhub. If Leafly recognizes the Product Brand in its database, it will link it to a Brand Profile page with additional information for your customers. We recommend setting up your product brand in Flowhub with the same naming convention as the vendor uses on their Brand Profile. This helps further introduce and educate your customers about the brands you carry in store.
Let's look at an example. In the Product Profile below, the brand being pulled from the Flowhub Product Catalog has the same nomenclature as the Brand Profile in Leafly, and creates a clickable hyperlink that appears as green instead of grey.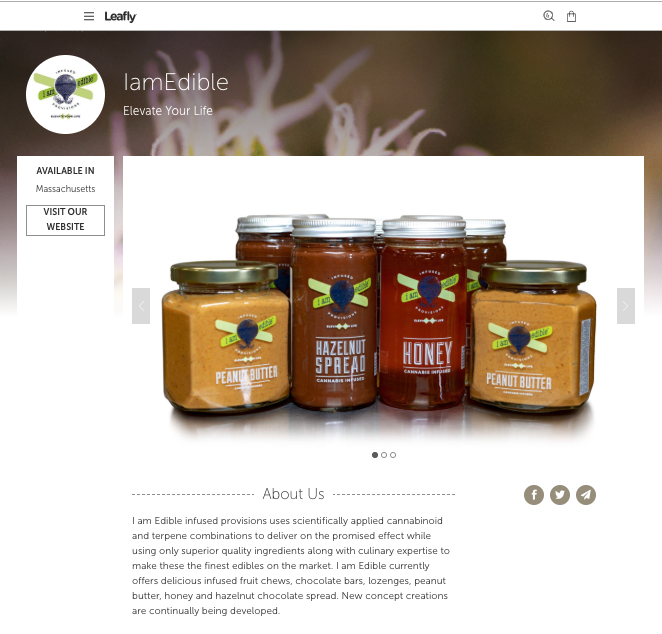 Increasing your online presence = more sales
In an increasingly digital world, the more information you provide online about your brand and products you offer, the more likely you'll improve your SEO, brand awareness and ultimately, your sales. Make your online presence that much easier to manage by utilizing Flowhub's partner integrations.
If you'd like more information about how Flowhub POS integrates with Leafly or would like to learn how our retail management platform can drive revenue for your dispensary, request a demo here.