About Oregrown
Oregrown is well-recognized and respected as one of the first vertically integrated cannabis companies in Oregon. The brand started as a grow operation; their first dispensary opened in Bend, Oregon in 2015.
Oregrown has since opened flagship stores in Portland (2019) and Cannon Beach (2020). Their Eugene location is set to open in late 2020, totalling four dispensaries throughout Oregon.
Oregrown takes pride in being not just a premier cannabis company, but a lifestyle brand. This is evident in how their stores look and feel, the beautiful merchandise they sell, the playful custom artwork accompanying their flower strains, and their participation in community programs and local festivals.

With a leadership team primarily made up of Oregon natives, the vision of Oregrown is offering a taste of the Pacific Northwest to as many people as possible. Their focus on building their brand, cultivating exclusive relationships, and delivering best-in-class customer service is working. The Bend store has been voted best dispensary in Central Oregon five years running.
The Opportunity
In order to become a regional house-hold name, Oregrown needed the right technology partner that would enable their brand to rapidly grow and scale outside of Bend.
"The biggest challenges I face are understanding what drives customer traffic and planning ahead for the times of year we know are going to be busy or slow," says Aaron Elston, VP of Retail.

Besides the ability to manage and report on multiple locations from one platform, Oregrown needed a partner with deep experience in cannabis compliance. It was mission critical to find technology that could automatically report track and trace data to Metrc and keep up with Oregon's ever changing climate of cannabis rules and regulations. For example, the Oregon Liquor Control Commission (OLCC) prohibits the retention of any information that may be used to identify a cannabis consumer unless the consumer consents to recording their information.
"Oregon is a very unique state in their rules and regulations. There were several point of sale [systems] that we went through that just weren't designed for cannabis. We needed to switch to make it easier on our staff and remain in compliance."

Aaron Elston
VP of Retail at Oregrown
Chrissy Hadar, co-founder and former Chief Branding Officer, put it simply, "Having a reliable point of sale is extremely important. The number one priority at Oregrown is compliance. The second is customer service."

The Solution
When looking for a new cannabis point-of-sale system, Aviv Hadar, a software veteran turned cannabis entrepreneur, looked closely at all the dispensary software solutions on the market. When choosing a solution for the Bend store, as well as future Oregrown dispensaries, Aviv Hadar focused on user experience, permissions, inventory management, compliance aspects, and the overall "snappy" feel you look for when using modern software.
"We worked through a number of the other point-of-sale software systems and never really felt comfortable expanding with any of them. Flowhub's maturity allowed us to feel confident in expanding."

Aviv Hadar
Co-founder and Former CEO at Oregrown
"Flowhub is set up to help support businesses that are looking to grow and not just remain stagnant," adds Chrissy Hadar.
"Our Bend location, where we first launched Flowhub, is now doing revenue that far outpaces the standard Oregon landscape. That's a combination of our location, our brand, and also how easy Flowhub makes it for us to transact," says Aviv Hadar. "Once we dialed in the Bend experience from point of sale to compliance to how we transact and bring in millions of dollars every year, now it's time to expand, and Flowhub has allowed us to do that quickly and easily."
So easy, in fact, that Elston was able to get the Portland point-of-sale system online in a matter of hours with minimal assistance.
"Adding a location to Flowhub was extremely easy. We have a company management section where all of our products live so we aren't having to recreate those products multiple times, which was a great time saver," says Elston.
Similarly, Flowhub allows you to easily transfer inventory from one store to another, just as easily as you transfer between rooms within one location.
"When we were opening the Portland store, it was really helpful to transfer some product from the Bend store. We were able to do that seamlessly through Flowhub, without having to remove it from the inventory of one store and then place it into the other manually. That's going to prove very useful in the years to come as stores grow and Oregrown has more locations," says Chrissy Hadar.
"The ability to add locations, transfer product within those locations, and have one platform where you can view the sales and all the data for those locations is extremely helpful. That's something I haven't really seen in any other point-of-sale platform."

Chrissy Hadar
Co-founder and Former Chief Branding Officer at Oregrown
Today, Flowhub's API integrations and automated specials engine are key timesavers for Oregrown's business. They also help attract and retain loyal customers. "One of the things we love about Flowhub is the open API aspect. The type of integrations that Flowhub continues to develop and deploy has helped us do business and bridge all of our software services together, whether it be delivery from Dutchie, online menu services from Leafly, interactive store displays from The Peak Beyond, or Metrc compatibility," says Aviv Hadar.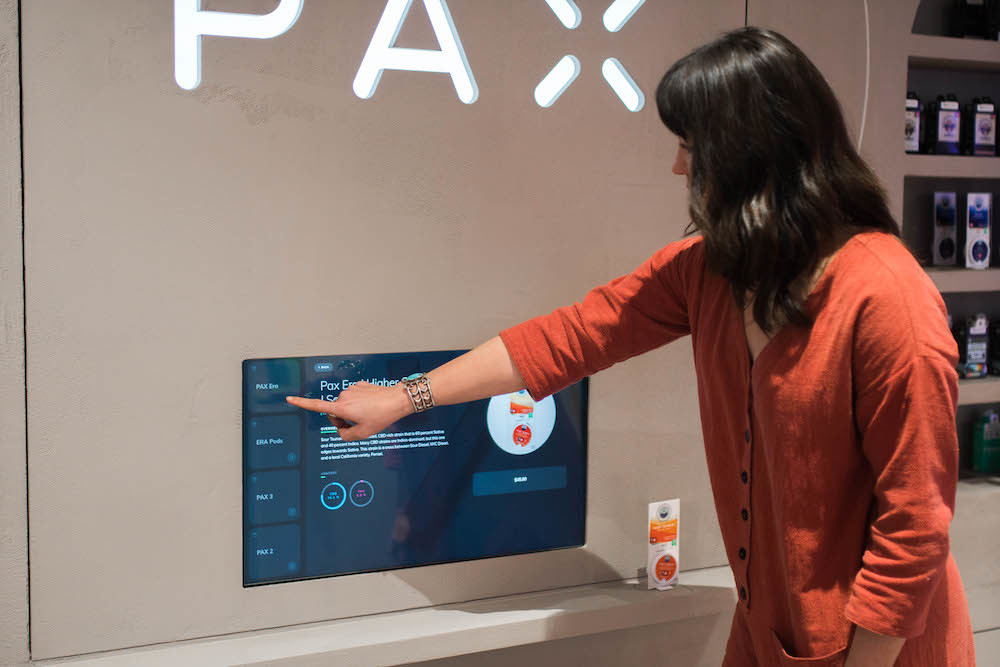 "When we switched to Flowhub, that is a big reason why our backend folks are able to integrate with Leafly and Dutchie online menus and really streamline a process that was taking hours," adds Elston.
When it comes to creating specials, Oregrown has rotating daily and weekly deals dialed in on an automated schedule. Budtenders don't have to worry about doing an inline discount or making a mistake applying a manual discount of some sort. Everything is set up and managed in the global back of house Deals engine.
"Creating specials is really easy. All you have to do is take a few steps," says Elston. "It's intuitive to understand how to build a special and auto-applying gives us more control at the point of sale from a margin standpoint."
Overall, Flowhub has allowed Oregrown to optimize store performance and expand from Bend to Portland, and most recently Cannon Beach. With a fourth on tap, the rapid growth of Oregrown is in full swing with Flowhub providing the reliability and innovation to keep them going as their technology partner of choice. "Flowhub gives us peace of mind as far as compliance goes, tracking inventory and ensuring sales are rung up quickly," said Chrissy Hadar.
Elston adds, "The stability and speed of Flowhub is unparalleled. On our busiest days like 420, we don't go down. We're able to do every single transaction without an issue and we really rely on our point of sale to remain in compliance and provide the best customer service we can. Because of how many machines we have running and because we have multiple locations, Flowhub is a great return on investment. We see awesome use out of it every single day."
"If you're looking to open a dispensary or deploy more dispensaries, Flowhub is the best choice that's available right now in the industry and I don't see that changing anytime soon."

Aviv Hadar
Co-founder and Former CEO, Oregrown