Integration is key to cannabis technology. What's the point of having tools if they can't work together?
The open API has always been the backbone of Flowhub's software—from building the first integration to Metrc to seamlessly connecting with major cannabis industry app interfaces like Leafly and Springbig. However, we always hoped that retailers would go the extra mile and use our API for their own creative initiatives.
We were right. Dispensaries are loving the versatility and accuracy that a Flowhub-enabled menu can provide.
To hear the retailer's point of view, we went straight to the source and interviewed Ron Ling. He represents Top Shelf Budz, a marijuana dispensary just outside of Portland, Oregon that has been on Flowhub since opening in June 2017.
A software developer turned cannabis entrepreneur, Ron used the Flowhub API to feed a live-updating menu into a custom-built Android application, as well as the shop's website.
The app allows for Top Shelf Budz's online menus to be super accurate based on real-time availability of cannabis inventory, ensuring that their medical patients and recreational-use customers can always find exactly what they are looking for. It's paying dividends, as the store's sales continue to grow 24% month over month on average.
The store's sales continue to grow 24% month over month on average.
Read on to discover how Ron used his tech skills and the Flowhub API to fuel the shop's grassroots marketing.
First, tell us what makes Top Shelf Budz dispensary special.
Top Shelf Budz offers great selection at great prices. The store layout is different than other shops. Products are laid out on display in front in big jars. The aim is to make products accessible, with a rotating supply of 50 or more strains of flower—much more variety than the average dispensary is offering, and at competitive pricing.
At the shop, it's all about relationships. Loyal customers and excellent relationships with cannabis producers are the reason that Top Shelf Budz is able to offer such great prices and value.
Why did you build the Android app for Top Shelf Budz?
I wanted to create a "stickier" experience. What better way to stay on the customer's mind than to have an icon on their phone that they can always see?
The app creates less steps for them to take. They don't need to search through Google results to see what's on our dispensary menu. With a mobile app, you can do so much more than with a website. The next step is enabling push notifications, and eventually allowing customers to sign in and do online ordering for in-store pickup.

People always want to know the most up-to-date menu information. If the menu items are a little out of date, customers get upset.
I also knew that having the menu properly updated is the best way to maintain a loyal customer base. People always want to know the most up-to-date menu information. Products move fast and constantly change. If the menu items are a little out of date, customers get upset. Understandable, as sometimes people may take a bus or drive far out of their way in their search for a particular cannabis strain.
How are you using Flowhub to power the dispensary's online presence?
The main channels are obviously the live menu features of our mobile app and website.
Beyond our online presence, we are still finding other new ways to utilize Flowhub's backend management in-store. Once you get data from the API, there are many different ways to visualize it.
For example, we print a card for each flower product. These cards have a template based off Flowhub API, so they have a consistent look when they are printed and placed in store in front of each display jar.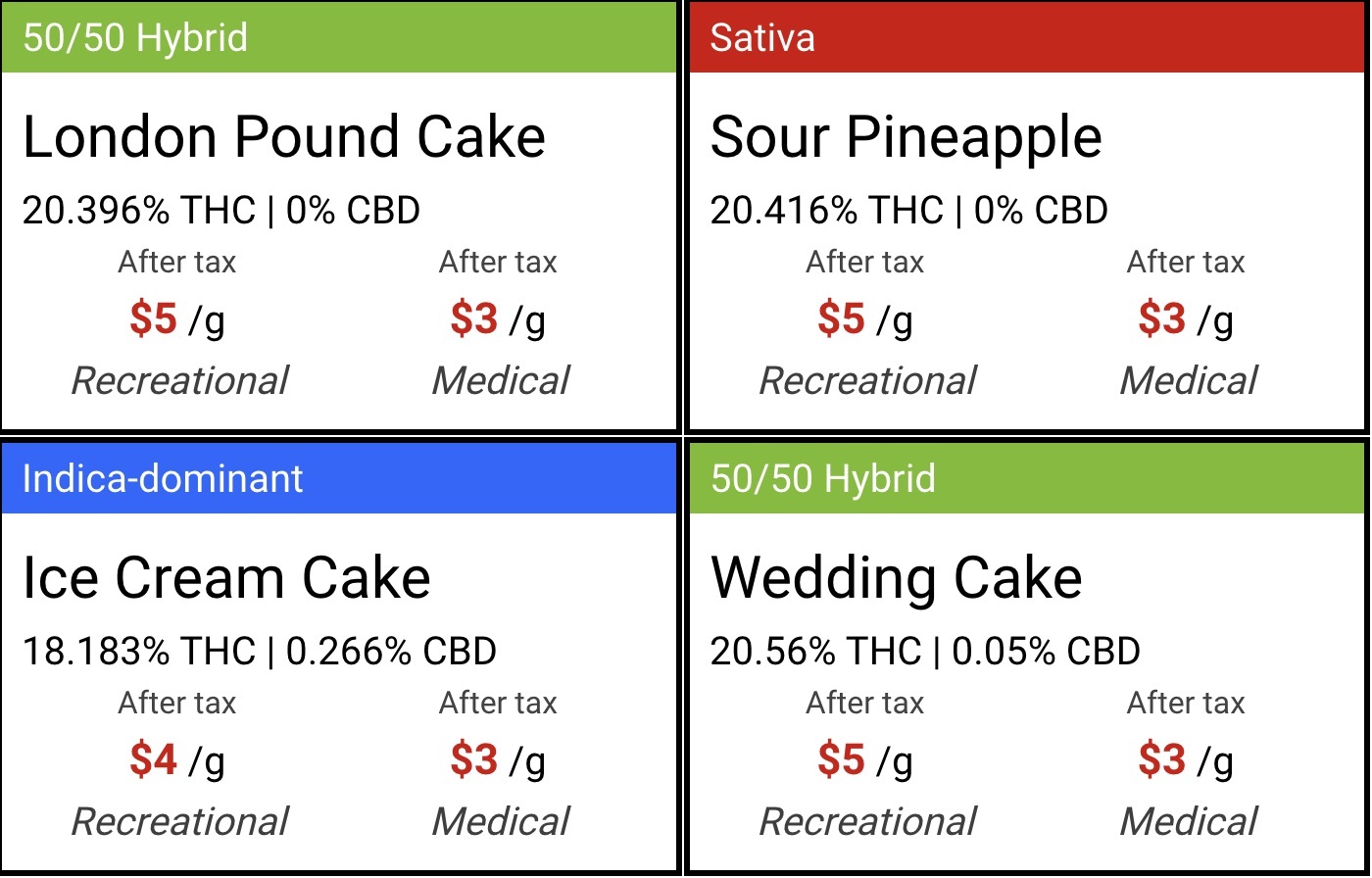 We also printed a 5-sheet menu from the API, which looks like a restaurant menu. It's just another way to present the same information to our customers in a different format.
When you were designing your app and website, what was the process like to integrate data from your POS?
Integrating with Flowhub API is very easy. We developed a cloud service that connects to Flowhub API. The android app, in-store menu, and product cards all connect to the cloud service to get the data.
The way I designed the app to work is fairly simple: when a user opens the app, they see a live menu divided into categories - like flower, pre-roll, and concentrate. The app makes a request to the backend to get the data, and updates the UI whenever there's a change.
What kind of feedback are you receiving from customers?
Before the app, customers simply didn't have all the information they needed to decide on the best product.

Right away, customers loved that they were getting more detailed information on the strains in a readable way.
People wanted to know more about the strain lineages we offer. Leafly only allows three categories for this: indica, sativa, and hybrid. Using Flowhub, we were able to classify our strains into five more granular categories: indica, sativa, hybrid 50/50, indica-hybrid, and sativa-hybrid.
Right away, customers loved that they were getting more detailed information on the strains, as well as pricing per gram, eighth, and ounce, in a readable way.
How do you think this integration will help your business?
This year I think more people will find our app, giving our store even more exposure. Having that icon permanently on their phone screen is like a reminder for the customer to come back.
We plan to do more promotions for holidays, especially 420 specials, and it will be easy to put those promos on display.
What advice would you give to other dispensary owners looking to differentiate from the competition?
Popular dispensary menu listing sites like Weedmaps can bring you some customers, but there's a disadvantage. Users might be able to see your shop on the map, but they can also easily navigate to other shops.
My advice is to start building your own app. Try to move away from the more popular platforms, because every other shop is on there. When a customer is using your personalized app, you can be sure they aren't going to see your competitors.
Thank you, Ron!
Be sure to check out Top Shelf Budz next time you're in Oregon and follow their story on Instagram.
Interested in using Flowhub and the API to streamline inventory management for your cannabis dispensary? Email us at api@flowhub.com.