The delicate balance of supply and demand is an eternal struggle for retailers. Strategic inventory management is especially pronounced in the cannabis industry with constantly changing regulations, testing requirements, customer demand, and seasonality disrupting the supply chain. Keeping items in stock can sometimes seem impossible.
No matter what methodology you use to forecast stocking your store's inventory, your point of sale should give you all the data you need to make an informed decision.
That's why Flowhub is excited to introduce our redesigned Par Level Report.
Whether your goal is to save on storage costs with the Just in Time (JIT) inventory method, minimize financial risk with Open-to-buy (OTB) inventory planning, or create annual inventory forecasts with the Economic Order Quantity (EOQ) method, Flowhub's Par Level Report arms your business with the tools to maximize your bottom line.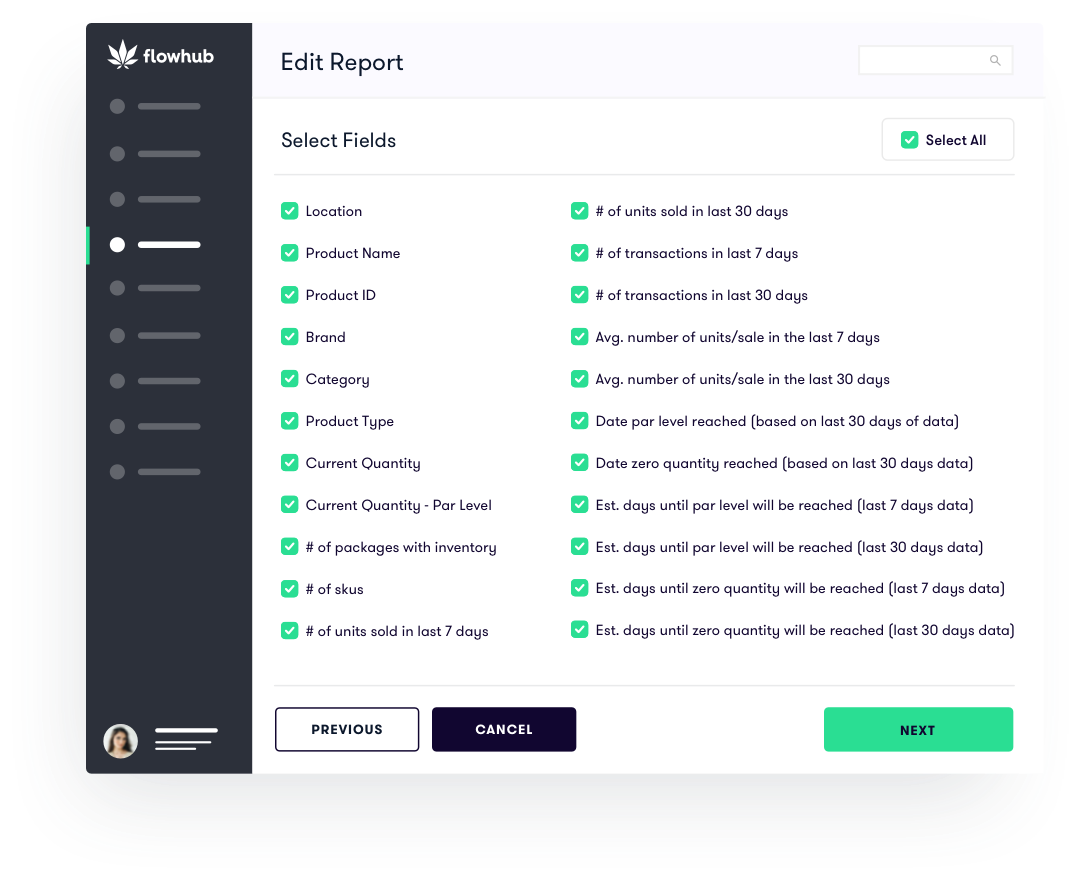 The Par Level Report aggregates historical inventory and sales data into a summarized view for predicting inventory thresholds and informing future purchasing decisions. Using this report, you'll be able to increase efficiency, cut costs, and decrease spoilage by answering important questions like:
How many units of ProductX have been sold in the last 30 days?
How many SKU's do I have for this particular inventory item?
Based on the last 7 days, how long will it take for ProductX to hit par level?
Based on the last 30 days, how long will it take for ProductX to hit zero quantity?
What date did ProductX hit its par level?
How much more product in addition to the par level do I need to buy for ProductX?
How many packages do I have of ProductX?
Before we dive into how to run the report in Flowhub, let's define what inventory par levels are and why you should consider implementing them at your dispensary.
What is a par level?
A par level is the minimum level of inventory necessary to have on hand in order to ensure it is always available in stock. If an inventory item falls below par level, it indicates that this item needs to be reordered immediately. Par, which stands for "Periodic Automatic Replenishment", can also be referred to as "Safety Stock Level".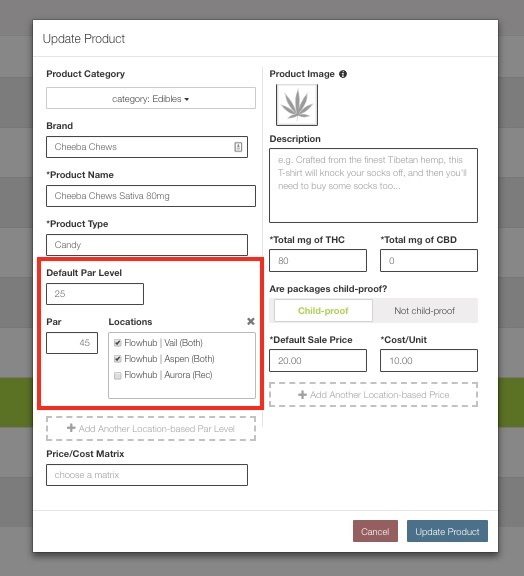 In Flowhub's Product Catalog, inventory managers are able to set customizable par levels for every product by location. You can also use the Bulk Edit Products feature to set par level for multiple products at a time.
Why use par levels?
Successful management of inventory levels in any retail setting is a challenging balance of many factors. A huge part of that challenge is accurately predicting customer demand. Having visibility into what inventory to purchase, how much is needed, and anticipating the timing of those stock levels can have a big impact on your profitability.
Buying too much inventory within too short a time can not only result in unwanted stock taking up space in your warehouse or spoilage of product that doesn't sell in time, but it can also create problems with cash flow and not having enough liquidity for other overhead expenses.
Failing to purchase enough inventory can result in losing a sale, and more importantly, losing a long-term customer if their preferred products are not in stock. Additionally, with new products continuously coming to market within an emerging industry like cannabis, having the data to know which products sell best helps maximize shelf space and improve cash flow.
Here's an example of how you can use par levels to take action:
Cheeba Chew Chocolate is sold at three dispensary locations.
At Flowhub Vail, the quantity in stock is 67 while the par is set at 45. We haven't quite reached par, so we can make a note to order more for this location next week.
At Flowhub Aspen, the quantity in stock is 100 while the par is set at 45. Since we're nowhere close to hitting par, it's a good idea to hold off ordering more product and perhaps lower the par level for this item at this location.
At Flowhub Denver, the quantity in stock is 10 which is under the par set at 32. Since we're running out of stock, we should place an order for more and consider increasing the par level for this item at this location.
How it works in Flowhub
Setting up the new and improved Par Level Report in Flowhub is simple, and much like setting up other reports in Flowhub. In order to access this data, you must have "Access Reports" and "Report Admin" permissions.
Follow these steps to get started:
Using Chrome, navigate to "Reports New".
Pick "Reports" from the drop-down selection.
Click the "+" button in the upper right-hand corner to generate a new custom report.
Set up your new report by giving it a name and description. Then select "Par Level" as your Report Type. Click "Next".
In the following window, select your desired data points to be included in the report, then click "Next".
Choose to filter your data by Location, Category, Brand, Type, and even Only include items below par level. Click "Save".
You will now see your new report in your list of Reports to run, schedule, and edit.
Please refer to our help article for more detail on setting up a Par Level Report in Flowhub.
Par Level Report best practices
Determine your product par levels
When setting up a Product Catalog in Flowhub, it should be noted that par levels are not set by default. If you are a brand new store or have not set up par levels for your products in Flowhub, you may use the Par Level Report to predict appropriate initial par levels. After your first 7 or 30 days of being open, this report will be able to tell you the average number of units sold per transaction in the last month for a particular inventory item, as well as the total number of transactions within that time for that item. Multiply these data points together, and you have the recommended starting par level!
Keep it consistent
Flowhub allows you to schedule and email the Par Level Report to your most relevant team members. You can automate the report as frequently as it makes sense for your store, taking one more item off your to-do list.
Because this report analyzes your inventory at a maximum of 30 days in arrear, our recommended best practice is to schedule this report to run at least once a month. For stores with more traffic and a higher likelihood of experiencing stock-outs, we recommend scheduling this report to run on a bi-weekly or even weekly basis.
Categorize and prioritize
Take your inventory management system one step further with Fast, Slow and, Non-moving (FSN) analysis. Use this particular par level system in conjunction with Flowhub's Par Level Report to identify products that tend to fly off the shelves more quickly and require more frequent purchase orders. By using the field "Est days until par levels are reached", you can identify fast-moving inventory that is likely to run out quickest.
On the flip side, this field is useful in identifying slow-moving product that should have a lower par level or even non-moving stock that may not be selling and just taking up shelf-space. If you are a multi-location chain, we recommend doing this analysis for all of your locations. If you're a vertically integrated business and manufacture many of your own products, use this data to help identify which products should take priority and have a shorter lead time in your supply chain.
With great knowledge comes great power
Flowhub's Par Level Report is a robust tool that arms you with the data to confidently set pars and know the minimum quantity of inventory you should have on hand whether you have one location or twenty. Never experience stock-outs in your store again, and have the insights to maximize both your shelf space and your profits.
If you have any questions about the new Par Level Report, call us at (844) FLOWHUB or email help@flowhub.com to set up a time with our support team.
If you're interested in learning more about how Flowhub point-of-sale software can help your dispensary grow revenue and stay compliant, watch a demo.