As a legal cannabis dispensary in a Metrc state, reporting your sales and physical inventory with 100% accuracy is the key to keeping your license.
If your physical inventory, point-of-sale inventory, and Metrc account are not aligned, your business is at risk for failing an external audit from the state.
Frequent internal audits between your Metrc account and physical inventory can be a cumbersome, manual process — but it doesn't have to be.
In this post, you'll learn how to run a Metrc Discrepancy Report in Flowhub and how to troubleshoot 6 common data inconsistencies.
What is the Metrc Discrepancy Report?
The Metrc Discrepancy Report is unique to Flowhub and takes much of the manual work out of auditing what is reported in your Metrc account.
We suggest running the Metrc Discrepancy Report at the beginning of each day before you start making sales or at the end of the day after sales have been reported to Metrc. These times are when the quantities in Metrc and Flowhub will be up to date because they are after you have reported your most current sales and inventory changes to Metrc.
If you are in a state that reports to Metrc in real time, we recommend running the report before opening, or end of day after close. Please refer to our Metrc Reporting Best Practices post to learn more about how Flowhub reports to Metrc.
How to access your Metrc Discrepancy Report
To access the Metrc Discrepancy Report in Flowhub, navigate to Reports and search for "METRC Discrepancy - Inventory." This selection will be preloaded into your reports.
If you have more than one store using Flowhub, use the drop-down option to the right of the search feature to select the appropriate location for which you would like to run the Metrc Discrepancy Report.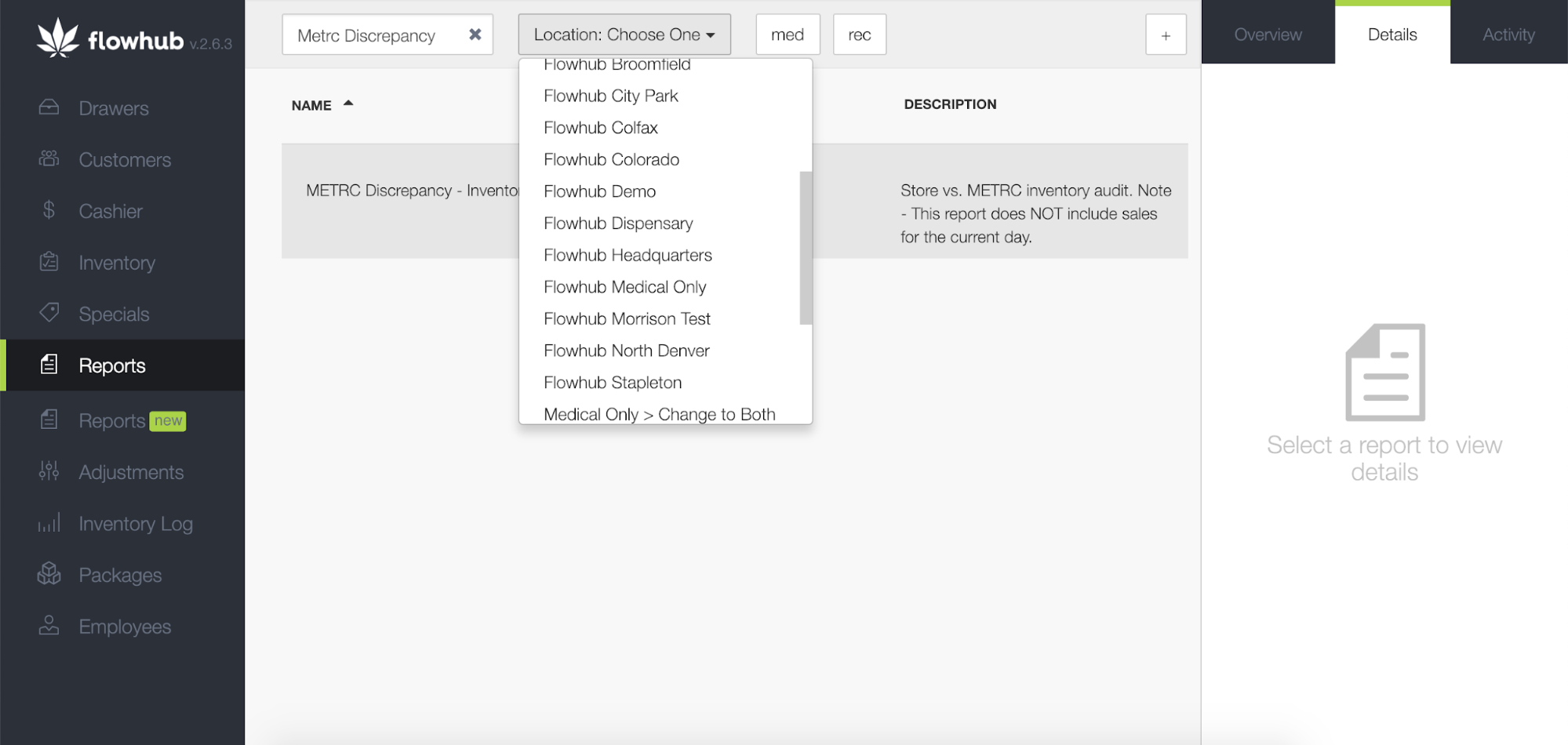 Using the 'med' or 'rec' buttons to the right of the location selection, choose if you would like to run the report for your recreational (adult use) or medical license. Then proceed to run the report by clicking 'CSV' on the right-hand side under the 'Details' tab.
After downloading the Metrc Discrepancy Report CSV, we recommend sorting the entire spreadsheet by "Package Tag" first, removing all rows with 0's in the Package Tag column, then sorting by "Notes." This makes it easier for you to view your data.
Now that you've run your report, let's talk about troubleshooting common discrepancies.
How to troubleshoot 6 Metrc discrepancies
The Metrc Discrepancy Report identifies conflicts between Flowhub and Metrc by asking:
Does the package tag in the Metrc account also exist in Flowhub and vice versa?
Do the units of measurement match between Flowhub and Metrc?
Is there a difference in the inventory quantities reported in Flowhub vs. Metrc?
There are six different possible discrepancies that may exist between your Flowhub inventory and what has been reported to Metrc. Please note, there can be multiple discrepancies associated with one package tag in your Metrc Discrepancy Report.
Next, let's define each of these possible discrepancies in the report, and review the recommended solutions for fixing them.
1. 'Unit of Measure (UOM) Discrepancy'
In this discrepancy type, the unit of measurement between your Flowhub account and Metrc account does not match. For example, a gram of shatter sold in individual containers may be labeled "each" in Flowhub as the unit of measure and may be labeled "gram" as the unit of measure in your Metrc account.
Solution: Correct the unit of measurement in your Flowhub account to match the unit of measurement in your Metrc account.
2. 'Quantity Discrepancy'

This is one of the most common types of discrepancies that occur within this report. In this case, the total quantity or calculated weight associated with a package tag does not match between Flowhub and your Metrc account.
Solution: Do a physical count of your inventory either by hand or using the Stash® app on our mobile Nug and identify where inventory was over or undersold from each package tag by submitting a discrepancy.
3. 'Active Package Not in Flowhub'
This discrepancy type means that this package tag is active in Metrc, but not in Flowhub's inventory, likely because the package has not been imported into Flowhub's inventory yet.
Solution: Import your package from Metrc into your Flowhub account and create a new inventory item. Refer to instructions on how to use Flowhub's Import Packages feature here. Or, if you plan on shipping the package to another location, create an outgoing manifest in Metrc.
4. 'Not Found in Metrc'
With this discrepancy type, a package tag is not found within this license, whether it be active or inactive.
Solution: Track down the tag, double-check if the 24 digit package tag code is correct by searching for the package in your active Metrc account, or try searching the last five digits of the package tag to see if there is a similar package that exists in the system.
If the previous steps yield no results, navigate to Transfers within your Metrc account, then navigate to Outgoing or Incoming and search within your manifests with the correct 24 digit code to find the package tag. Finally, if the package tag can still not be found, the package may be listed under another license. Use the same steps to check the Metrc accounts for those other licenses as well.
5. 'Inactive Package in Metrc'
This discrepancy means the package currently exists in Flowhub, however, it is an inactive package in Metrc, meaning the package was sold down to 0, adjusted, or combined with other packages before the package was sold through in Flowhub.
This is an urgent scenario because you're at risk of selling inventory that you've already reported as finished, and will cause a negative quantity in Metrc. That is a big red flag for enforcement agencies!
Solution: Try to find the physical inventory and package tag in your store with this discrepancy type. If the product still exists under this package tag and has not been sold through, perform a physical count of the inventory and adjust your Metrc account to reflect that number.
If the physical inventory has been sold through and no longer exists in your store, it means your Flowhub inventory is off. In this case, submit a discrepancy to adjust the quantity down to zero in your Flowhub account.
6. 'Multiple SKUs in Flowhub'

In this scenario, there are multiple inventory items, or SKUs, assigned to one package tag. The total quantities associated within those SKUs may or may not match the total quantity for that package tag in your Metrc account. These discrepancies commonly occur when a batch of product is broken up into multiple inventory items in Flowhub.
For example, say you receive a 100 gram bag of bulk flower that will be divided into joints and eighths. Because you now have two inventory items with two price points and weight units, two different SKUs will be assigned to those items in Flowhub. However, both of these inventory items still stem from the same package tag in Metrc.
Solution: To determine if the total quantity of product associated with these multiple SKUs matches the total quantity associated with the one package tag in Metrc, we recommend first tracking down and aggregating all the SKUs associated with this package tag. Then, perform a physical count, and use "Flowhub Calculated Weight" for each SKU to identify the total quantity for that package tag.
Does this total quantity of the physical inventory match the quantity associated with the package tag in your Metrc account? If not, a quantity discrepancy exists, and your Metrc account should be adjusted accordingly.
Making Metrc auditing easy
Managing inventory data in two different systems is bound to cause problems and errors. Our Metrc Discrepancy Report is designed to save your inventory management staff hundreds of hours of manual work over time.
By regularly auditing inventory and identifying those errors, you can quickly resolve them before enforcement agencies start asking questions.
Your license is your lifeline, and the source of truth for that lifeline is Metrc track and trace. Make sure that your business is always ready for a visit from enforcers by utilizing a tool that gives you complete visibility into where your inventory may be misreported.
To see the Metrc Discrepancy Report and other Flowhub features in action, watch a demo.
If you are a current user and need help with your Metrc Discrepancy Report, reach out to our Product Support team directly via phone at (844) FLOWHUB, or email us at help@flowhub.com.
Want more inventory tips?
4 Tips for Managing Dispensary Inventory