Hundreds, if not thousands of products and SKU's come and go through your dispensary every month. Most traditional inventory management software is not designed to handle the level of detail that is required for proper cannabis inventory tracking. Many cannabis retailers are left to track their inventory by either piecing together several workflows and tools or manually tracking and performing audits with pen and paper or spreadsheets. Not only are these methods a time suck, but they also create leakages for compliance risk, human error, and internal theft.
That's why Flowhub is excited to launch the Stash App®, a simple mobile inventory management solution custom-built for highly efficient cannabis operations.
What is the Stash App?
The Stash® App is one intuitive mobile application designed to streamline your back of house dispensary operations, maximize efficiency, and reduce inventory management cycles—all without being tied to a computer.
Stash helps inventory managers save time on manual, repeatable tasks and streamline daily workflows with confidence, accuracy, and compliance. From auditing your inventory top to bottom, transferring items between your store locations, and moving items within your dispensary, the Stash appenables your team to perform critical tasks all at lightning speed, and from the palm of your hand using Flowhub's Nug mobile scanner device.
Stash integrates seamlessly with the rest of the Flowhub cannabis retail management platform, connecting your data from check in and dispensary point of sale to back of house operations and compliance reporting as a central record of truth across all your dispensary locations.
Hear it from Green Dragon, a cannabis enterprise based in Colorado with 12 dispensary locations, two cultivations, and two MIPs managing thousands SKU's from their central inventory distribution hub.
Inventory Manager Sam said what used to take 45 minutes to an hour, now takes 5 minutes with the Stash App and Flowhub POS:

The accessibility of the Nug makes our jobs faster and more flexible, and gives me confidence in the accuracy of our inventory. That's what we need when we're a small team of four.

—Sam Gyongyosi, Inventory Manager at Green Dragon
So, what's new?
We have been covering your inventory management needs from the inception of Flowhub with our Audit and Transfer mobile applications. At Flowhub, we are always striving for innovation and to make our products better. After extensive feedback from our dispensary customers about their biggest inventory workflow challenges, we created the Stash appwhich consolidates our separate legacy mobile apps into one centralized inventory management "hub", rebuilt with a brand new backend architecture, faster performance, and added functionality.
The entire app experience has been optimized to give your staff more mobility and more visibility into your inventory movement than ever before. Whether you're a boutique or growing enterprise, you can now combine Flowhub POS, inventory management, API integrations and reporting capabilities on desktop with the Nug's Check-In app and Stash app on mobile for a reliable, compliant platform that works the way you do.

What are the features and benefits of Stash?
Managing a dispensary is not a desk job. Your day to day tasks are dynamic, and your staff moves around physically just as much as your inventory does. With the Stash App, lugging around bulky hardware is a thing of the past.
The Stash app comes preloaded on Flowhub's mobile Nug scanner with three primary functions:

In this section, you'll learn the benefits of these mobile inventory management features and how they work in Flowhub.
Mobile inventory audits
Audits are a necessary evil in any retail environment. They are designed to closely track the most valuable asset in your store: your inventory. However, audits for dispensaries are a little more complicated. It is not only essential to regularly audit your physical inventory to protect and maximize your bottom line, but regulatory bodies require total transparency, visibility, and accuracy of your inventory in order to stay in compliance.
In order to maintain compliance, inventory counts must match across three operational systems:
Physical inventory
Point-of-sale inventory
Metrc Track and Trace inventory
Flowhub recommends a best practice of auditing your physical inventory at least once a week and checking that your counts match between Flowhub and Metrc daily. As you count inventory, the "Audit Inventory" feature of the Stash appmoves with you—making for a fast and easy process that simultaneously audits your physical inventory with your point-of-sale inventory simply by batch scanning barcodes and confirming amounts.
Flowhub's Nug has significantly reduced the amount of time it takes to count inventory. We carry over 250 different SKU's at any given time. The Nug allows our employees to effectively manage their time when counting inventory at the end of the night, giving them more time to engage with customers and make sales!

— Niko Johnson, Store Manager at Diego Pellicer
Discrepancy workflows
The "Audit Inventory" feature on the Stash appalso comes with built-in manager approvals for any discrepancies. After your staff identifies and submits discrepancies between Flowhub and your physical inventory, they must be verified and then approved or rejected by management.
Only employees with the "Manage Inventory" permission have the ability to access this portion of the audit feature. Katie, Inventory Manager at Igadi put it well. The audit feature in the Stash appis "clear and simple. I can even see who submitted a discrepancy and why."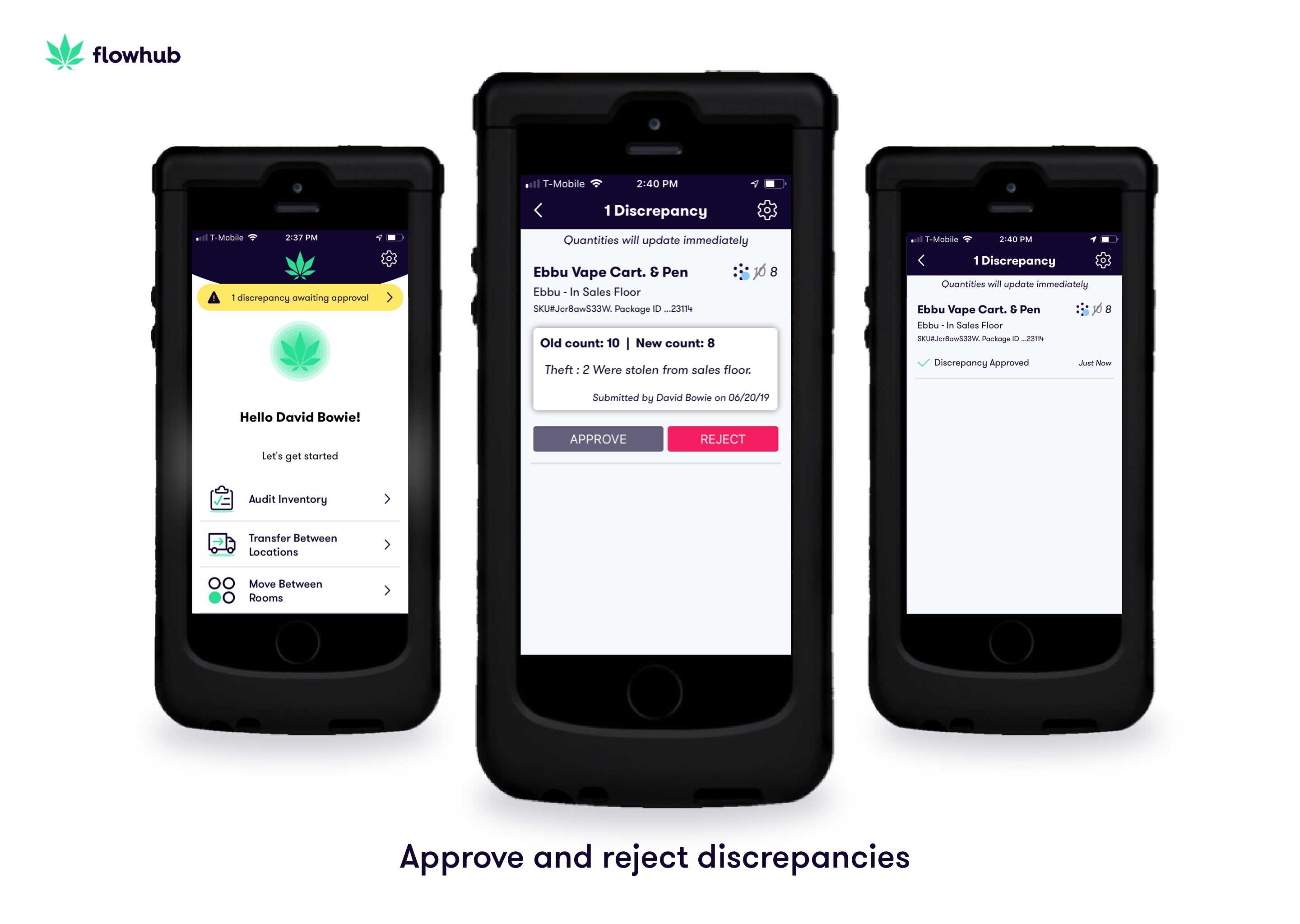 Once your discrepancies are approved by your management staff and your physical inventory is aligned with your point-of-sale inventory, you can utilize Flowhub's Metrc Discrepancy Report to conduct an audit between your Flowhub account and what has been reported to Metrc Track and Trace. Please note that any adjustments to your Metrc account must be made directly in Metrc after discrepancies are identified with this report.
Pro tip: The Flowhub team recommends a best practice of utilizing the Stash app audit functionality to create a digital paper trail for all of your inventory immediately after it is accepted at your dispensary. Once you've accepted a package via Flowhub's desktop application, quickly scan the package tag, and have an audit record on hand of that inventory from the get-go.
Your inventory management activities impact your entire team and having visibility into what is happening and where is invaluable. That is why everything that is done within the Stash app communicates to the Flowhub Desktop Application in real-time. You'll be able to see the updates to your inventory as they happen from the desktop or web-based version of Flowhub under "Inventory" > "Activity". This feature keeps a record all activity digitally, so your management staff can more easily track down the who, what, why and where of inventory management mishaps and prevent them from happening again in the future.
For step by step instructions on how to use the "Audit Inventory" feature within the Stash App, watch the video below or check out our Help Hub article.

Distribution management
The "Transfer Between Locations" feature in the Stash appis most useful for multi-location dispensary chains or for any dispensary operation with a central distribution warehouse where product is kept before being divided and transported to individual stores. With the Stash App, enterprise operations are able to easily bulk transfer inventory from store to store in a few taps. Once the transfer is received, it must be accepted in the desktop app.
Similar to the audit functionality, Flowhub's desktop application syncs with the Stash appto bring visibility into transfers in real time. You're able to see your transfer activity clearly under "Inventory > Activity > Shipped".

It should be noted that packages from Metrc must be accepted via the Flowhub web application, and due to legal API restrictions, the Stash appcannot handle Manifests for your transfers. If you would like to see the API documentation for transfers in Metrc, you can find it here.
For step by step instructions on how to use the "Transfer Between Locations" feature within the Stash App, watch the video below or check out our Help Hub article.
Move between rooms
Flowhub allows dispensaries to set up their system to reflect their physical dispensary. For each physical room where you store inventory, you can create a room in Flowhub with the same name, e.g. Back Room, Sales Floor, Refrigerator, Vault, etc. You can also categorize rooms as "for sale" or "not for sale", which ensures that only inventory in rooms designated "for sale" can be added to customers' carts and reflected on your online live menus for purchase.
At Flowhub, we recommend setting up separate physical rooms within your dispensary to securely store your "for sale" inventory and your "not for sale" inventory as a best practice. With this inventory management method, you have full control over what is being sold and can enforce a First-in First-out (FIFO) rule that prevents budtenders from selling newer inventory before products close to expiration or spoilage.
Busy stores are constantly moving products from room to room. "Move Between Rooms" is a brand new feature included in the Stash app designed to give your employees a fast, easy, and mobile way to move items from "not for sale" inventory rooms to the sales floor in bulk.

After your move has been made between rooms, you'll be able to clearly see the move, and detailed information about the move from the main Flowhub interface on your desktop or laptop computer under "Inventory > Activity > Move". This visibility provides a paper trail for your management staff to trace back what has been moved, where, and when.
The 'Move Between Rooms' function worked flawlessly. It eased the process of filling orders to our Byers location, attached to the warehouse. It sped up the process for us just like the new transfer function. It is also reassuring because it removes the human error.

—Sam Gyongyosi, Inventory Manager at Green Dragon
For step by step instructions on how to use the "Move Between Rooms" feature within the Stash App, watch the video below or check out our Help Hub article.

Now it's your turn to stash it
Inventory management in any retail environment is challenging. In the highly-regulated cannabis industry, inventory management is even more complex. Utilizing a mobile tool like the Stash appon the Nug modernizes your operations, improves efficiency, and empowers your staff to do their jobs more quickly, easily, and accurately, with confidence.
Incorporating Stash also allows for total visibility into your operations, creating a digital paper trail to identify theft and hold your staff accountable to their day to day activities—which is crucial for compliance.

Before Flowhub we had a team of inventory managers for each location. With the ease of operation and Nug, we streamlined our inventory staff to one employee per location.

—Ethan Shean, Regional Manager at Strawberry Fields