Note from Flowhub: This guest post was written by Brittany Centifanto, General Manager at Roots RX, a recreational cannabis chain with six dispensaries throughout Colorado's mountain communities. Read on for Brittany's guidance on how to make operational efficiencies that will directly impact your bottom line, especially if you have a small dispensary. Thank you Brittany!

Operating a successful dispensary brings challenges beyond those of any other retail category. Changing regulations, reporting expectations, and consumer preferences can be tough to juggle. But if you figure out how to be both efficient and compliant, you'll open the door for big opportunity.
Roots RX is a well-established Colorado brand with six locations in the mountain communities of Leadville, Gunnison, Eagle-Vail, Edwards, Aspen, and Basalt. Mountain locations allow us to weave the beauty of the great outdoors with experiential cannabis consumption to serve both tourists and mountain locals.
The Roots RX chain of recreational marijuana dispensaries has always worked toward aggressive year-over-year growth goals, even though many of the stores are extremely limited in physical size.
To achieve those same store sales goals, our team has intertwined technology into our daily activity, shortening queues and improving the overall customer experience. When your store is small, every second saved in the transaction time is important. The challenge is creating operational efficiencies to get more customers in and out of your store without compromising product education and the customer's experience.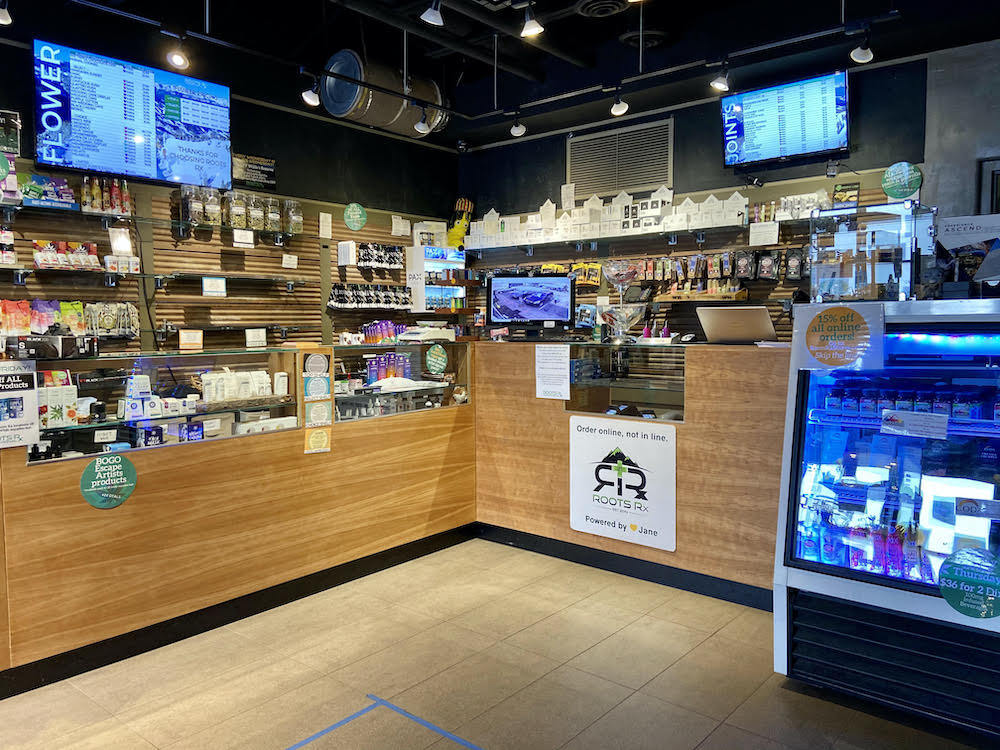 To help you understand how we've continued to grow our cannabis business, I'll take you through four best practices for improving processes and enhancing efficiency to increase revenue without expanding your physical store.
1. Speed up the dispensary check in process
In my stores' early days, we started out using a pretty common model for check-in. A budtender would greet the customer, check their ID, walk them through to the register, check their ID a second time, and then check if they're a loyalty member.
The ability to streamline check in happened when we got the Flowhub Nug® scanner. Now my team scans an ID once, which verifies age, puts the customer into a queue in the POS, and eliminates the need for budtenders to check ID a second time. If customers are part of the loyalty program, this is automatically applied; we don't have to manually check for that later.
A physically limited retail space means customers have to be moved in and out of the store as quickly as possible in order to maximize revenue and keep the experience positive.
We see 1,000's of customers a month, depending on location. And we probably save at least 3-4 seconds per transaction with the Nug. Just 3 seconds saved per transaction adds up big time. If you do the math, that's over 60 hours saved a year.

We probably save at least 3-4 seconds per transaction with the Nug.

Brittany Centifanto, General Manager at Roots RX
The ability to save even a few seconds per transaction is so important, especially for my smaller dispensaries. The mobile nature of the Nug allows maximum flexibility.

Another benefit of the Nug for check in is it helps identify fake, expired, or questionable IDs. We work closely with the local police. We used to call their non-emergency number to verify suspect IDs. The police actually called after we started using the Nug and said, "We haven't heard from you in a while, what's going on?!"
2. Streamline your dispensary loyalty program
Store loyalty can be a make-or-break for customer retention in the areas I operate in and every marijuana dispensary around has a loyalty program. I've seen that in small communities, people are notoriously more loyal to their favorite shops.
Even though we're in a mountain/tourist area, loyalty from regulars is our life-blood, especially during the seasonal slower times we see in our resort-based communities. We see more visitors in the spring and summer, while fall and winter tend to be more locals.
Given the need to move customers through quickly, there's no time for issues in finding names in the loyalty program. Using the Nug to scan IDs at check-in means the customer is already in the POS, which eliminates errors and time to find the customer.
Before the Nug, if we couldn't quickly find the customer in the loyalty program, we'd add points for people later (we often would do so through notes on scraps of paper). This was inefficient and inherently prone to errors.
Now we can quickly scan IDs and know exactly who is a member and how many points they've accumulated.
Having a streamlined system in place has been a driving force for our success over the years. It may seem extraneous at first, but being able to maintain consistency with every customer from dispensary check in to check out allows for a more enjoyable and efficient experience for everyone.

Read this next
9 Effective Loyalty Program Ideas
This streamlined process also ensures the loyalty program is adopted uniformly. In the old days, if we couldn't find a customer's name in the loyalty program, or they didn't tell us they were a member, it was possible they missed out on points. Or if it was busy, it could be easy to forget to ask.
Getting the loyalty information as part of the check in process means the loyalty program is always integrated with a transaction. The customer is also able to view their point totals at any time thanks to another tech integration.
3. Find the right staffing balance
A friendly, knowledgeable staff is a necessity for any cannabis dispensary, but this is especially true for those of us with small dispensaries. If your staff understands the need to balance proper education with a fast-paced environment, then you're on the right track, but there's still more you can do.
Locals usually want to get in, get their product, and get out, so knowing who wants to chat, and who knows what they want, will keep you on track for success. We like to use one staff member to maintain proper flow, keeping the regulars moving, but still offering education when necessary.
A huge differentiator for us is using Flowhub data to build schedules around seasonality and relevant busy times of day. Data is crucial for optimizing efficiency. This enables us to use our staff to its full potential, as we can get the most efficient schedule possible and have it ready weeks in advance. But we can still be prepared to make adjustments in real time in case business patterns change dramatically for some reason (like a global pandemic).
The key is to have enough staff to efficiently serve the customer flow, never having too many or too few staff members at any given time. Use your data to help guide these decisions.

4. Use technology to automate operations and save time
When you have a small dispensary, or a seemingly limited revenue potential for whatever reason, technology can help ensure you don't waste any time or resources.
One example is specials. Before Flowhub, we had six different store managers each put in their own daily deals at each location. Now I put all of the deals in at once, saving six other people time and effort every single day.
These deals, or specials, are constantly updated on a live menu in all of our locations, they're a great addition to our dispensary tool stack. Cannabis integrations power live menus — including deals — in all locations and keep customers informed, speeding up check-out, and improving customer satisfaction. We used to have to update the screens manually; now it's all live and updated based on inventory in our point-of-sale.

Read this next
How to Master Cannabis Deals
Another example of streamlining through technology and API integrations within the cannabis POS software is order ahead. I've found that online ordering and other efficiencies save minutes per transaction and limit the need to get the order together from the secure room and physically interact with customers. Order ahead means that you have the flexibility to use downtime to go to the safe room so you can grab all items at once, ultimately saving valuable time.
The key here is to use the tools at your disposal, specifically through API integrations, to streamline how you run your business. Another way to automate includes scheduling reports (and have them emailed to you) so you don't get distracted by the numbers, but instead have exactly what you need to see exactly when you're ready to see it.
You can also use cannabis inventory management best practices to ensure you're never wasting product, you can get ahead of reordering, and plan ahead to sell expiring products before they go bad and become a loss for your business.
Summary
Don't let the size of your retail store or your location limit the revenue potential of your dispensary. By streamlining operations and increasing efficiencies, your cannabis business can serve more customers.
By speeding up check in, automating loyalty, staffing smartly, and maximizing API integrations and report automation, you can ensure you're running a tight ship and not wasting money, time, or other resources.
Using Flowhub has allowed me to succeed in all these points, and continue to grow my retail operations significantly, without physical expansion. It's not about more space or different products, it's about being efficient with every part of your business.
Watch a demo today to see how Flowhub can help you streamline your dispensary operations to earn more revenue, even if you have a small store.