The cannabis industry is becoming more and more competitive every day. Sales of legal cannabis, which hit 9.84 billion in 2018, are projected to hit a whopping 23 billion by 2025. And with the rise in competition (and opportunity), dispensary marketing is becoming increasingly important for dispensary owners. If you want your cannabis business to succeed, you need to stand out, grab consumer attention, and motivate them to choose your dispensary. And one of the best ways to do that? Dispensary deals.
Cannabis deals, daily specials, discounts, and other offers are an easy (and fun) way to show your customers you value their business — and ensure they shop in your marijuana dispensary and not at the competition across the street.
But what deals should you incorporate into your marijuana marketing strategy? What kinds of specials drive foot traffic into dispensaries as well as brand awareness, sales, and loyal customers?
Let's take a look at what specials dispensaries in legal markets across the United States are offering — and, more importantly, why these 10 cannabis marketing strategies are so effective.
The special: Cannabaska offers a daily Early Bird Special, where customers receive 15% off the entire store before 9 AM. The dispensary opens at 8 AM daily, so that means customers can snag top shelf flower, pre-rolls, edibles, accessories, merch, and anything else on cannabis dispensary shelves for a solid hour after opening every day.
Why it works: Early morning isn't typically a high-volume time of the day for cannabis retail. Most people aren't shopping for cannabis before they go to work. In fact, Flowhub data shows the busiest times of day on average are 2 PM - 6 PM. By offering a significant discount between 8 AM and 9 AM, Cannabaska incentivizes people to shop early—and drives foot traffic into the store during a traditionally quiet sales time.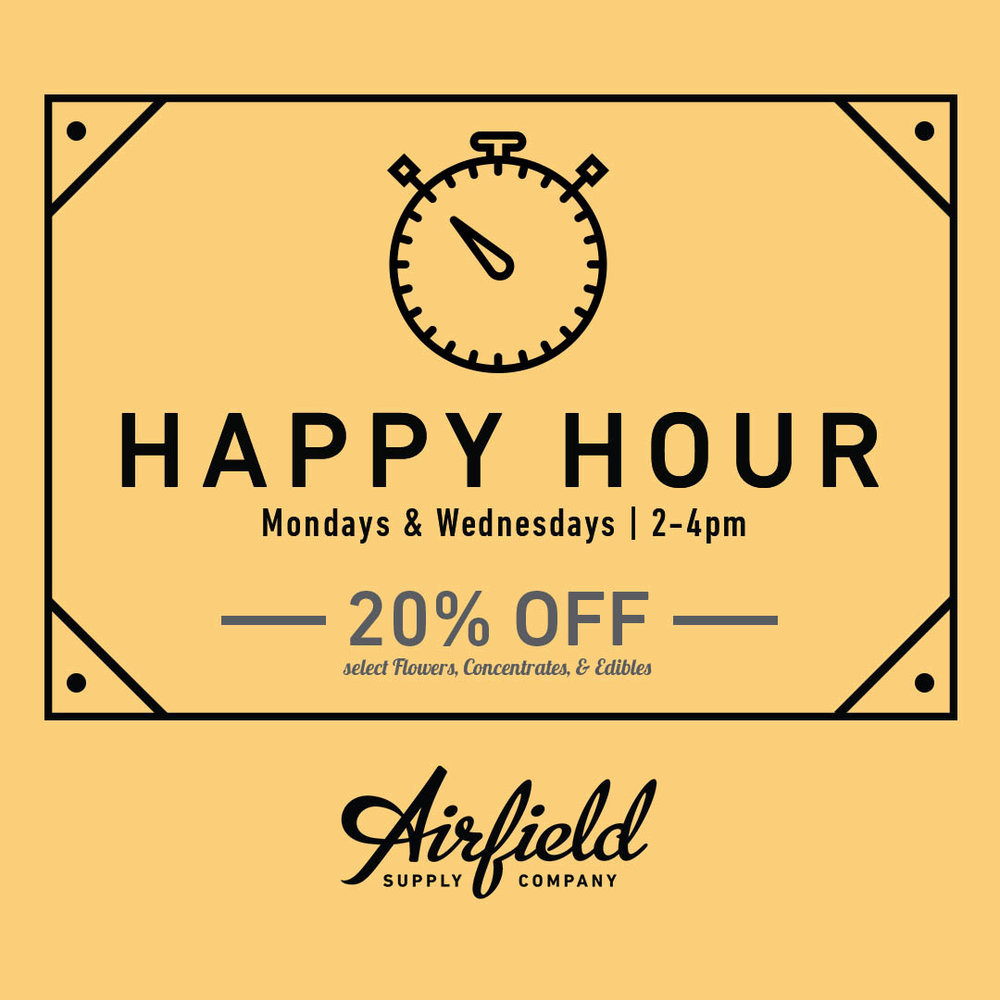 The special: Think happy hours are reserved for bars? Think again! Airfield Supply Company makes the afternoon hours extra happy for their Silicon Valley patrons with their Happy Hour deals. Every Monday and Wednesday, from 2 PM to 4 PM, customers enjoy a 20% discount on select flowers, edibles, and concentrates.

Why it works: Airfield Supply Company's Happy Hour special works for a similar reason as Cannabaska's Early Bird special. These happy hour marketing efforts help to drive traffic into the store during what might be slower hours — in this case, during the mid-week, mid-afternoon slump (when most people are still thinking "I need to get through the workday" and not "I need to get high after the workday").

Colorado: Green Dragon - Byers Pl, Denver

The special: Some dispensary specials run daily or weekly. But one-off specials can work just as well when you add a creative spin! Green Dragon recently held a "Golden Ticket Giveaway" special that had some serious Charlie and The Chocolate Factory vibes; the dispensary hid a golden ticket in one of their all-flower joint packs — and whoever found it would be the proud recipient of a prize valued at $500.
Why it works: A giveaway like this incentives people to buy a specific product. So, if you have a product that isn't moving as quickly as you'd like, this type of special is a great way to get people interested and get the product off the shelves. You can identify which products are unpopular or slow to sell by using cannabis par level reports.

The special: Every new medical patient who visits Northeast Alternatives enjoys a 20% discount thanks to the dispensary's first-time patient special.
Why it works: Getting potential customers into a dispensary for the first time is often the hardest. By offering a first-time discount, you can drive brand new customers into your store—then, once you wow them with your service, staff, and products, they'll be sure to come back (no discount necessary).

The special: Wellness Connection has a value menu that offers up a host of awesome deals throughout the week. But arguably, the best special of the bunch comes on Thursdays, when the dispensary sells classic eighths for just $28.
Why it works: Consumers have a tendency to like things that are "new and shiny"—and that includes cannabis. Offering a special that significantly lowers the price of classic strains can help them sell—and make sure they stay just as attractive to customers as newer, trendier strains.

The special: Every Sunday from 9 AM to 9 PM, Detroit-based dispensary Green Genie runs a 4 gram Sunday special — where customers can score four grams for the price of an eighth.
Why it works: People LOVE the feeling of getting a deal — and giving them even a little extra bang for their buck (in this case, half a gram) can be enough to incentivize them to make a purchase. If you notice a pattern where a specific day of the week is consistently slow, try running a special for that day only to increase traffic and sales volume.

Oregon: Kaleafa - Portland

The special: Kaleafa offers its customers a number of specials throughout the week, but Mondays are a definite favorite. Why? Because Mondays are $1 gram day — whenever a customer buys a gram of regular priced cannabis, they have the option to get a gram for just $1 (the $1 gram changes weekly).
Why it works: Having a $1 add-on to a cannabis purchase pretty much guarantees that people are going to be buying (it's only $1!) — and that's a great way to sell through lower quality cannabis or strains that, for whatever reason, just aren't connecting with customers.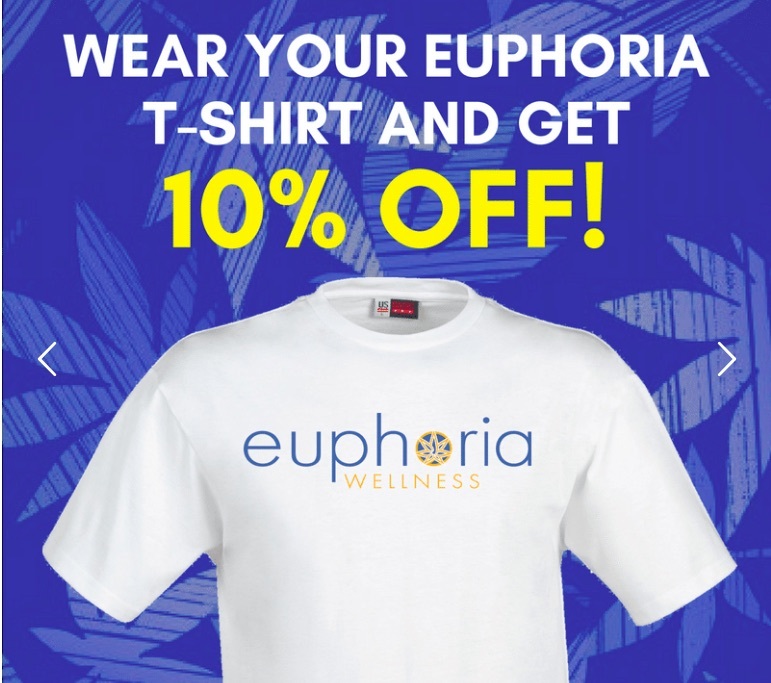 The special: Euphoria has their own branded t-shirt — and, if you wear it into the dispensary, you'll get a cool 10% off your purchase.
Why it works: If you have a merchandise line, giving people a discount when they rock your gear is a great way to drive merch sales; people will be more willing to buy merch if they know it's going to get them a recurring discount on future purchases of other cannabis brands. (And if your merch looks cool? That's just an added bonus.)

The special: Every other Tuesday in March and April, Champlain Valley Dispensary hosted a Senior Discount Day for their older customer base. Customers 65 years of age or older get a 10% discount on their purchase.
Why it works: Thanks to the huge potential of medical marijuana, seniors are the fastest growing group of recreational marijuana consumers — and by giving them a discount, you're incentivizing them to come into the dispensary and shop for all their cannabis-related needs.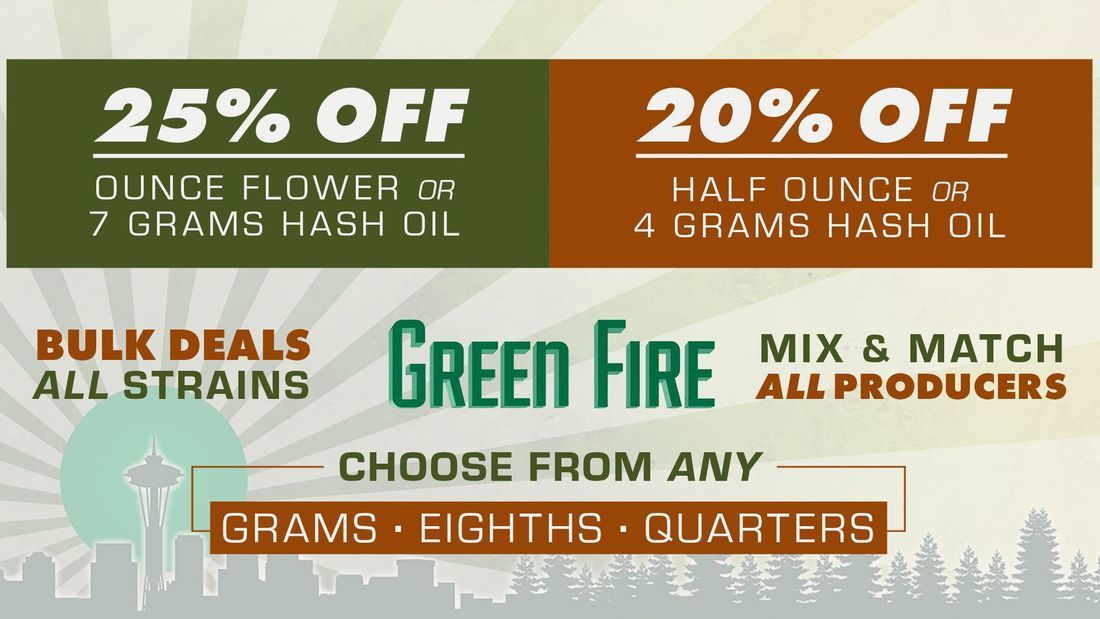 The special: Need to stock up on hash oil? Green Fire Cannabis has got you covered. When you buy at least four grams of hash oil, you'll get 20% off your purchase — and if you bump that up to seven grams, that discount also bumps up to 25%.
Why it works: A lot of cannabis consumers buy one gram at a time. But offering a bulk discount on select strains, concentrates, vape cartridges, or any other cannabis products — and offering more savings the more you buy — is an upsell strategy to incentivize your customers to buy more product in a single purchase.

Bottom line: Specials make you special
With so many different types of dispensary specials, there's no reason to not embrace this cannabis dispensary marketing technique. Creative dispensary specials allow you to stand out in the increasingly competitive marijuana industry, attract customers and drive them into your store — and, once they're there, you get the opportunity to show them why you're the best dispensary choice for all their cannabis needs.
So what are you waiting for? Get some specials on your menu — and watch those cannabis consumers come running to your marijuana business.
If you need help creating and scheduling custom specials in your POS, request a demo of Flowhub to see how our scalable Deals engine works and learn how you could be growing dispensary revenue even faster.