Holidays are the most popular time of the year for dispensary deals. This means it's important to get creative in order to stand out.
Here are 31 dispensaries offering interesting promotions this holiday season. Use this list as you think about holidays in 2022 and beyond.
1. The Green Nugget — Customer appreciation month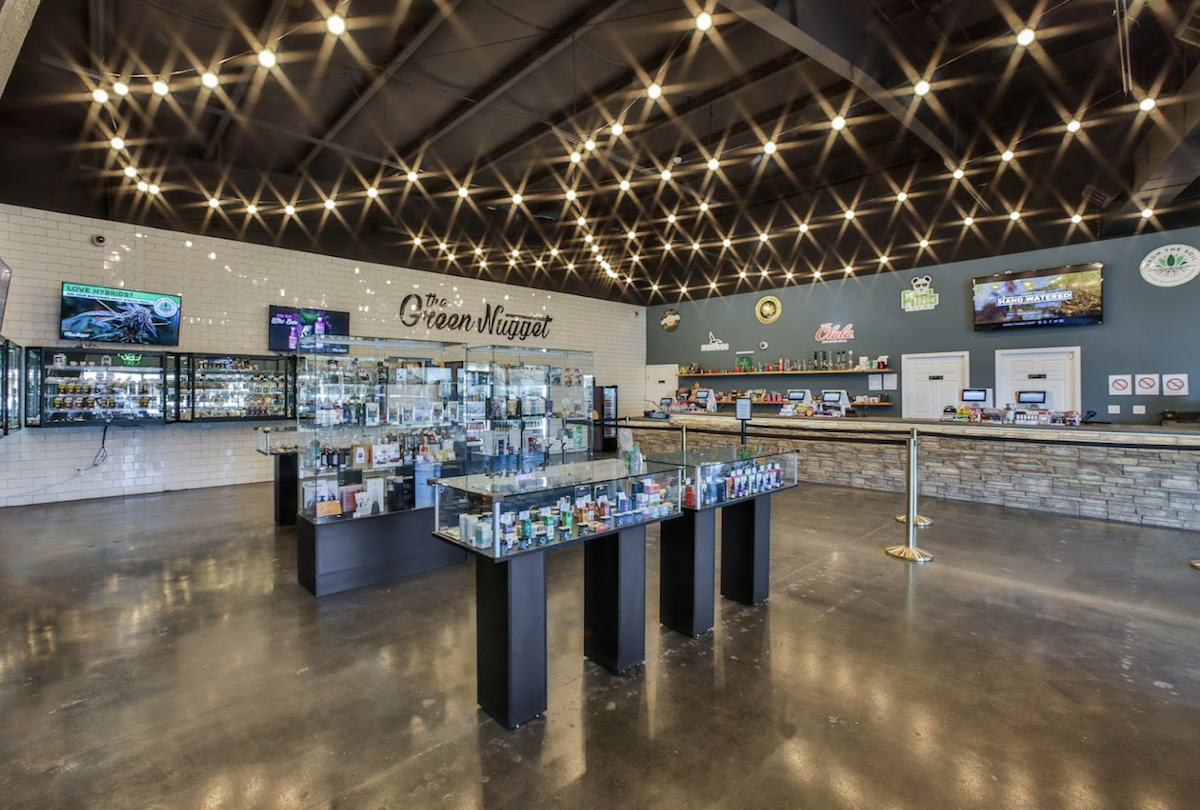 Located in North Spokane, Washington, The Green Nugget prides themselves on having Leafly's #1 Largest Selection in Spokane.

To drive repeat business, they celebrated Customer Appreciation Month for the entire month of December. Plus, they offered 30% off ounces of flower over $100!

This not only made current customers feel valued, but offering the deal for the whole month allowed enough time for shoppers to take advantage.
2. Bloom Cannabis Co — 20% off 
for Veterans
every day
Bloom Cannabis Co. is a Veteran-owned business with 3 dispensary locations in Oklahoma.
They're dedicated to helping Veterans and do so by paying for their Medical Marijuana Cards and offering a very generous 20% discount to Veterans all day, every day!
Bloom Cannabis Co. has already paid for over 200 Veteran Medical Cards.
While this isn't holiday-specific, it highlights the value and importance of offering deals to specific customer groups. Bloom supports Veterans, but you could also choose teachers, nurses, students, or any other group you want to support.
3. Fire on Fore — Huge supply of stocking stuffers
Fire on Fore in Portland, Maine, has some of the coolest swag in the cannabis game! They took advantage of the gift-giving component of the holidays by offering and promoting fun, unique, and affordable clothing and gear.
This tactic gives customers another suite of products they can buy, besides cannabis products. Plus, if you have cool gear that people want to wear, your customers also become branding for your business.

4. Planet 13 — Stoned soup drive
Planet 13 spent November of 2021 giving back to local nonprofits with its second annual "Stoned Soup Drive" benefiting the Las Vegas Rescue Mission, SHARE Village Las Vegas, and SafeNest.
This type of promotion is relatively easy to execute, as long as you communicate so customers know to bring items with when they come to shop. You can offer discounts or other promotions to anyone who donates on behalf of your cause.
Planet 13 is open 24 hours. Next time you're in Vegas, add them to your "must-see" list.
5. Gallatin Valley Organics — 100% local / organic
Gallatin Valley Organics in Bozeman, Montana helps customers get into the holiday mood with a cozy, knowledgeable, and friendly environment.

One mistake many businesses make is trying to appeal to a broad audience. Sometimes it's more effective to draw a line in the sand and then march whole-heartedly toward that. Gallatin Valley Organics' business model focuses on organic products; a great place to go if you're struggling to choose a gift for someone who prefers the more natural things in life.
6. Serra — 10% off edibles every Monday
Serra has shops in Portland, Oregon as well as Los Angeles, California. Their brand is not only unique, but sensationally modern. If you're looking for an upscale dispensary shopping experience, plus some design inspiration, check them out!
On Mondays, Serra offers their premium, delicious edibles for 10% off.
Some holiday favorites are Gumdrops, High-Dose Bonbons, and Serra x Woodblock Chocolate. Stop in for a few of these beautiful confections to add to your holiday charcuterie board, or as gifts for the friend who has it all.

7. Embarc Tahoe — Free NYE concert
Embarc Tahoe offers a complete holiday experience.
Their shop features holiday stockings, gift wrapping, and a "naughty and nice" product list. Not only is this festive and fun, but it offers a new reason for customers to visit during December.
To keep the holiday cheer going, they also sponsored a huge, free New Year's Eve concert in Tahoe! This is a great idea because most promos center around Thanksgiving or Christmas. Keep your promos going into January to stand out.

8. Consume Cannabis Co. — Donate to earn loyalty points
In December of 2021, Consume Cannabis CO. collected non-perishable food items for local food pantries to celebrate a month of giving! Each of their locations across Michigan participated.

For every two items donated, they awarded 25 loyalty points to customers.

This idea is great because it supports a local charitable organization, but also offers an incentive to customers to shop more with you during that month.
9. The ECS Shop — 12 deals till Christmas
In December, The ECS Shop in Oklahoma offered a special daily deal every day until Christmas as part of their "12 Deals 'till Christmas" campaign.
Discounts included lowers prices on vape cartridges and 25% off edible making kits!
This tactic is fun because it plays off of an existing holiday theme that people recognize. Just be sure to offer interesting deals each day; bonus points for offering holiday-related or unique deals.
10. Pinnacle Emporium — 20% off the entire store on December 20th
Pinnacle Emporium has 5 cozy locations in Michigan to get customers in the holiday mood.

On December 20th, they offered 20% off their entire store for their 2-year anniversary. This tactic takes advantage of a single day, and that day was probably very busy!

Because they didn't want to only focus on one day, they also gave huge daily savings during their "12 Days of Christmas" promotion from December 12th - 24th.
The challenge with 12 days of deals, plus the anniversary deal mixed in, is to ensure you're effectively communicating with customers enough in advance (but also heavily in the few days before).
11. Higher Health — 12 dabs of Christmas
Higher Health in Oklahoma kicked off the holidays with "12 Dabs of Christmas," a creative play off of the "The 12 Days of Christmas" song.
Their holiday package included:
2 - 1g new strains from TruLove
1g Silent Night CBN/d8 blend from HCL
1g rosin from Tribe
Focusing on a certain product type appeals to customers who regularly buy that product. The risk is that non-dabbing customers may feel excluded. If you have good data and know who your customers are and what they buy, you can create unique, tailored promotions like this.
12. Coast to Coast — Last-minute holiday deals
To give shoppers an option for last-minute holiday purchases, California-based Coast to Coast offered 33% off an ounce or "buy one get one for a dollar" on select concentrates and tinctures on December 24th and 25th. This tactic helps drive that last-minute shopping crowd.

3C also gave back during December. Every customer who brought in a toy for their Toy Drive received a discount.

The combination of a month-long promo plus a two-day offering is a smart way to approach the holidays and appeal to different types of shoppers.
13. Ethos — Helping those in need
Ethos, with locations in Pennsylvania, Massachusetts, and Maryland, is so focused on giving that they have a specific arm of the business, called Ethos Cares, that offers programs to help the community every month.
In December, Ethos helped those in need by raising money for local non-profit organizations that provide aid to families during the holiday season.
This is a great idea because it isn't just a holiday promotion. Giving and supporting their communities is a company-wide priority and is done every day of the year.

14. March and Ash — Tommy Chong meet & greet
March and Ash held a meet and greet with Tommy Chong to celebrate the holidays. Since he's a legend in cannabis, this type of event will get you noticed, maybe even talked about in local news sources or event calendars.
The meet-and-greet required tickets, which is also a great way to capture customer information (with their consent of course).

15. A-Z Dispensary — $160 top shelf ounces
A holiday favorite at A-Z Dispensary in Oklahoma was their $160 OTD top-shelf ounces. Offering discounts on large quantities is appreciated by frequent visitors, helping them stock up before the stressful holiday season hits.
They also offered deals on zen cannabis chocolate bars, carts, and concentrates to appeal to customers who prefer non-flower options.

16. Seagrass Salem — Holiday gift cards
Instead of relying on specific deals, Seagrass in Massachusetts created special gift cards for the holidays.
This tactic is perfect for two reasons: 1) people can buy and give to friends, family, and loved ones who may want to pick out their own products, and 2) selling gift cards at the end of the year means redemption of those cards at the start of the year.

Consider offering a discount, like "buy a $100 gift card for someone else, get a $15 gift card for yourself," to encourage more sales.
17. West Coast Meds — Holiday deals across all products
West Coast Meds in Michigan had a long list of deals for the holiday season:

MKX vape cartridges were 4 for $100
$6 Yard Bud pre-rolls
$10 top shelf weekly strain
25% off all bongs
15% off all concentrates
20% off West Coast t-shirts
Offering a variety of deals proves useful for stores with customers who have varying preferences. It's also smart to discount both cannabis and non-cannabis products.
18. MariMint — Great swag for gift-giving
Pronounced "merry mint," this Montana dispensary has the perfect cannabis products for the holidays. And their swag is perfect for holiday gift-giving!

The key to carrying merchandise for gift-giving is to offer variety, including high-quality branded clothing, but also accessories and cannabis-related products like rolling papers and bongs.
19. Pure Oasis — Customizable holiday gift bags
Pure Oasis — Boston's first recreational dispensary — ran a December promotion with customizable holiday gift bags, which could be filled with any cannabis products!
Customers love deals, but they also love smart curation of products, especially around the holidays. Add beautiful packaging, and you've got a deal!
20. The Fire Station — Collecting non-perishables for local communities
The Fire Station in Michigan spent December helping raise over 1,000 lbs of non-perishables for local food pantries through the TV6 Canathon.
The deal for customers: $5 off a purchase, once a day for the whole month of November if they brought in a non-perishable item to help support the cause.

They also closed Christmas Day to give their employees time with their families.

21. Hidden Treasure — Delivering holiday vapes
Hidden Treasure Delivery in California offers delivery across the Sacramento area. They had great deals on STIIZY products in December and delivery is always free (with $35 minimum purchase).
Offering deals on specific products is common, but this example shows discounting of specific brands that you carry. Consider partnering with brands for special promos (and even in-store events).
22. Silver Sage Wellness — 13 daze of cannabis
Beginning on December 12th, Silver Sage Wellness in Las Vegas offered deals, raffles, and special appearance from vendor partners Dixie, Evergreen Organix, Deep Roots, Binske, and more.
On the first day of deals, customers could purchase any Dixie bath soak and chocolate bar and take 25% off both.
On the second day, deals on Evergreen Organix's handcrafted treats ... buy any 100mg baked good and get 1 20mg treat for $.01.

For last-minute shoppers, on Christmas Eve, spend over $100 get 20% off storewide. Or, spend over $200 take 25% storewide.
What makes this promo intriguing is the uniqueness and specific-ness of the promotions, vary different from one day to the next. Another unique tactic was having a page on their website dedicated to the 13 days promotion so customers could see what daily deal best fit their needs.
23. World of Reef — Open normal hours during the holidays
One way to ensure customers get their holiday cannabis is to provide your normal store hours throughout December. That's exactly what World of Reef in Arizona and Nevada did.
Let's face it, sometimes it's overly confusing for customers (as well as staff) to keep track of holiday hours, specials, closures, etc. An unusual, but effective, way to support your community is to keep it status quo.

24. Revolutionary Clinics — Holiday cannabis gingerbread houses
Located in Massachusetts, Revolutionary Clinics had a variety of holiday-themed cannabis goodies for sale. This included cannabis-infused gingerbread cookies and peppermint bark bars!
Bringing in new and interesting products is important to retain customers, as well as attract new shoppers, and one way to do that is to stock seasonal products. Gingerbread cookies and peppermint bark definitely caught the attention of customers, and having them only for a short time can activate a scarcity mindset, just like we see in traditional retail.
25. Harvest — Holiday sweepstakes
For customers in Arizona, Maryland, and California, Harvest ran a holiday sweepstakes in December.
To enter the sweepstakes, customers had to click through their dispensary tour and locate the retail employee at the top of the spiral staircase, and then click the link provided.
Grand prize winners received a medical marijuana cookbook, Field & Co. Wool Harvest cooler, Modern Flower flat-billed hat, Modern Flower light up rolling tray, Modern Flower lanyard, or a Harvest Labor Day sticker.
This type of tactic, whether done online or in-store, is a great way to activate and engage customers. If done online, often people are asked to follow your account, comment on a post and/or share your post to be entered. The purpose is the same — 1) to get your customers to take some sort of action to show their interest in you, and 2) introduce you to new potential customers.
26. Permafrost — Featuring new cannabis harvests
Permafrost in Alaska harvested some new batches of cannabis just in time for the holidays. They featured Frosted Cookies and Purple Gelato.
For cannabis brands with their own cultivation and processing, consider creating new seasonal products like Permafrost did. Gingerbread cookies or gumdrop gummies would appeal to festive shoppers.
27. Mind Rite — Deals on cartridges
Located in Portland, Oregon, Mind Rite ran specials on their We OG cartridges as well as some other holiday products.
They also offered an exciting selection of swag, including grinders, beanies and hats.
Their approach, like so many others, was to offer a variety of product specials and other promotions to satisfy their customer base.
28. Jars — Highly happy holiday mugs
Jars in Michigan had some fun holiday-themed gifts available in December. This included their "highly happy holiday" mugs which they gave away in-store on the week of Christmas.
While merchandise is common, this is a great example of a unique, affordable option to sell in your store. Everyone loves mugs, especially with fun, catchy, or slightly naughty phrases or designs. Mugs are also pretty simple to design and print, making them an easy option. Consider a new holiday mug every year to encourage repeat purchases.
29. Chesapeake Apothecary — Holiday gift boxes
A fun way to get customers into the holiday mood is to offer a selection of gift boxes. Chesapeake Apothecary in Maryland did just that with CBD boxes specifically designed for pets and humans!
Especially around the holidays, people love a carefully-curated package. These boxes make for easy gift-giving and often are beautifully packaged up already. The options are endless for offering gift boxes, even beyond the holidays. (Tip: Start thinking about that chocolate, massage oil, bath bomb gift box for Valentine's Day!)
30. The Herbal Cache — New beanies and hoodies
The Herbal Cache in Alaska stocked up on beanies and hoodies to keep customers warm during the holidays. They were perfect gifts for those living in Alaska.
As discussed already, merchandise is a great way to increase your basket size while expanding your reach in the community. This example shows that knowing the market helps. Some areas may win big with branded joggers, and others with crop t's. For wintertime, beanies and hoodies are a great, appropriate march option.
31. Grass Monkey Cannabis Company — Cannabis peppermint bark
Peppermint bark is a staple of Christmas-time.
Grass Monkey in Southern Maine offered some delicious-looking peppermint bark as a seasonal product during December. The bark came in 100mg and 300mg THC options.
Your turn!
Hopefully this list of holiday promotions, deals, and events got your brain churning with ideas.
And while the focus was on the holiday season, the same principles apply for all the holidays of the year, including Valentine's Day, St. Patrick's Day (a big cannabis sales day), 420, Independence Day, Labor Day, Thanksgiving, and more.
Tag us on social so we can see what unique promos you dream up!