As legalization grows nationwide, cannabis businesses are becoming more professional and reputable, and a high-quality website is now a non-negotiable.

People of all ages and backgrounds are seeking information about CBD and cannabis on the internet, and dispensary retailers that are doing web design and SEO right are emerging with the answers.

Sites like Weedmaps, Leafly, and High Times used to be the only online arbiters of cannabis information online, but now it's local dispensaries that are offering some of the best marijuana content.

Ingredients of a great dispensary website
While reviewing dozens of marijuana sites for this article, several themes emerged among the most beautiful and engaging websites:

1. Credibility and trustworthiness
Cartoon graphics of bongs and pot leaves don't lend credibility to your dispensary. New consumers want medical cannabis, CBD, and recreational marijuana products that boost their health, productivity, and creativity. Many don't resonate with "stoner" vibes.
2. Online ordering menu
A hugely important part of any dispensary website is a menu that allows customers to order ahead from the comfort of their own homes for pick-up or delivery. Online menus allow customers to see what products you sell, and also initiate the transaction.

Read next!
Tips for Setting Up Dispensary Online Ordering
3. Owned website domain
The best sites don't rely on a third-party vendor or marketplace to host their website. They establish brand credibility with their own site domain and original content.
4. Fresh color scheme
Not surprisingly, the vast majority of cannabis websites are overwhelmingly green. While this may seem like a logical design choice, to capture consumer attention, focus on white space with bright pops of unexpected colors. You can still use green as a primary brand color, but use it as an accent.
5. Valuable content
The best sites increase engagement with their audience (and with Google) by keeping their original content fresh and informative, whether in the form of blogs, videos, or social media posts. Even if you aren't blogging, always keep your site current.
6. Focus on wellness
The cannabis industry is now a major part of the wellness business. Successful dispensaries find new cannabis consumers by educating their local communities about how cannabis relates to wellness and engaging them through their websites, emails, and social channels.
7. Beautiful photographs
If a limited budget means you have to choose between a designer and a professional photographer, go with the photographer. Highlighting gorgeous products and spaces and featuring staff with quality portraits helps boost the beauty and credibility of your site.

8. Creative product categorization
An emerging trend for dispensaries is to categorize their cannabis products into solutions to specific problems. It's less about indica and sativa, and about "energized" or "calm." Some brands also include product reviews so customers can learn more before they buy.

10 examples of great marijuana websites
Here are ten marijuana dispensary websites that have eye-catching web design, organized content, and trustworthy answers to common questions, listed in no particular order:

Curio Wellness
Based in Maryland, Curio Wellness is "Your Total Wellness Destination." The clean, fresh website feels as rejuvenating as their soothing spa – a unique dispensary offering.

Curio also offers educational events as well as a holistic pharmacy that provides other health-boosting supplements in addition to cannabis.

Their focus on overall wellness, as well as their light and bright, beautifully photographed and styled site is what attracts attention and puts them in the top 10.

Thrive Cannabis Marketplace
Nevada dispensary, Thrive Cannabis Marketplace, distinguishes itself in many ways. Their website is well-organized, informative, and easy to navigate.

They have also established themselves as a thought leader in the cannabis space, using their website not just to advertise locations and make sales, but to educate their customers, especially those new to cannabis.

They have an impressive library of articles and FAQs, as well as a blog page that is updated at least every couple of weeks. Finally, they categorize their products into five "feelings," helping those new to cannabis find the perfect product for their needs.

The Republic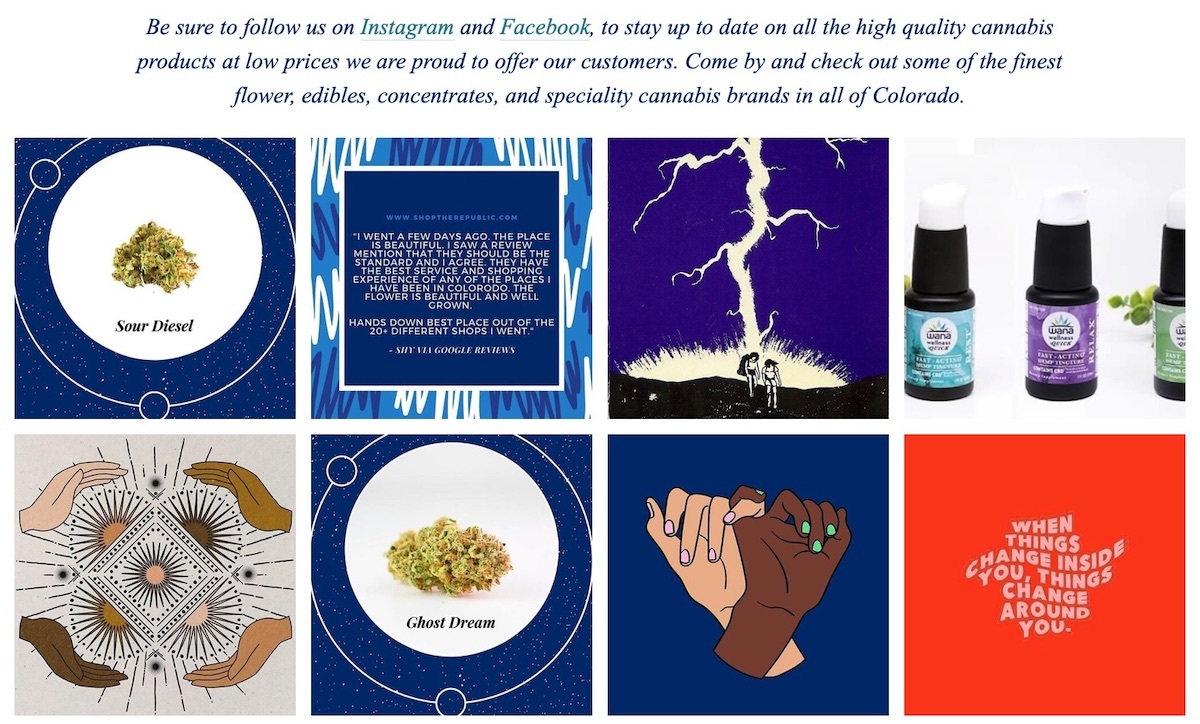 The Republic is a unique and modern vertically-integrated dispensary situated on a cannabis farm in Boulder, Colorado. Their website has an eye-catching blue and white color scheme which stands out in the typically green-themed cannabis webspace.

Their site has a simple, one-page design, yet provides the essentials you need like location, store hours, and a Dutchie-integrated order-ahead menu for marijuana and CBD products. It also features links to their well-maintained Instagram and Facebook pages. Staying engaged on social media is an important way to reach different customer demographics.

Lightshade
Colorado-based Lightshade is a nine-location metro Denver dispensary brand. Their website has a pleasing turquoise and sage color scheme and simple, yet striking, photo transitions to catch the eye.

They also post varied, quality content on their website. Not only do they keep their blogs updated, but they also feature other content like articles, cannabis strain reviews, celebrity product recommendations, interviews, and recipes. Diverse content like this can help a dispensary reach a variety of customer profiles.
One other differentiator is a section of their site dedicated to corporate responsibility, featuring giving programs and community partners.

The Fire Station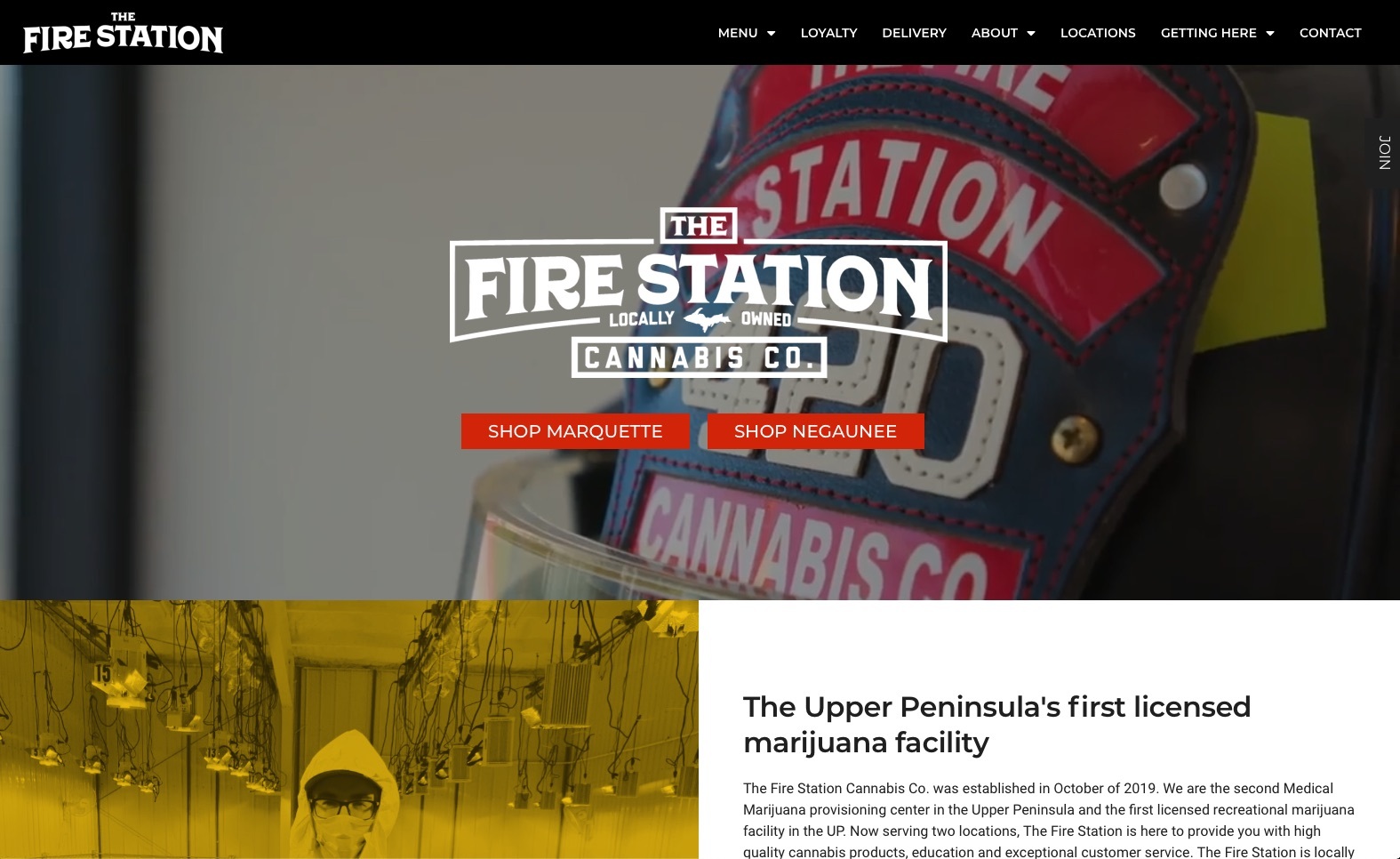 One of few recreational dispensaries in Michigan's Upper Peninsula, The Fire Station capitalizes on tourism to build their customer base.
There's even a dedicated section on the site targeting people from major cities in the nearby non-legal states of Wisconsin and Minnesota.

Another unique thing about The Fire Station's site is the use of red and yellow. Staying on the theme of their name, the website incorporates firehouse styling and coloring. The use of video in the website hero shows a customer entering the store, giving site visitors a sense of what it's like to shop there.

Coastal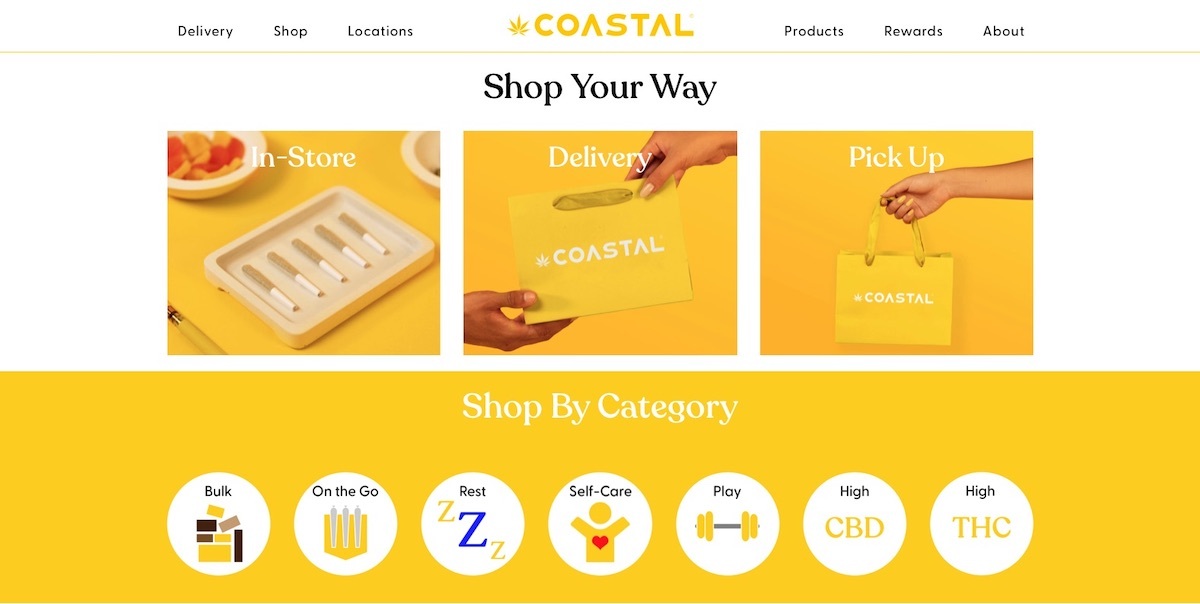 California cannabis company, Coastal's, bright emoji-yellow website can't help but make you smile. Coastal boasts twelve locations and their special categorization of products by effects, purpose, and/or CBD or THC content makes it easy to connect with your most appropriate marijuana product.
Whether you are a cannabis connoisseur or a nug newbie, Coastal's site can guide you to the best ordering option for you – it offers an in-person store locator, online order pickup, and delivery service.

Chalice Farms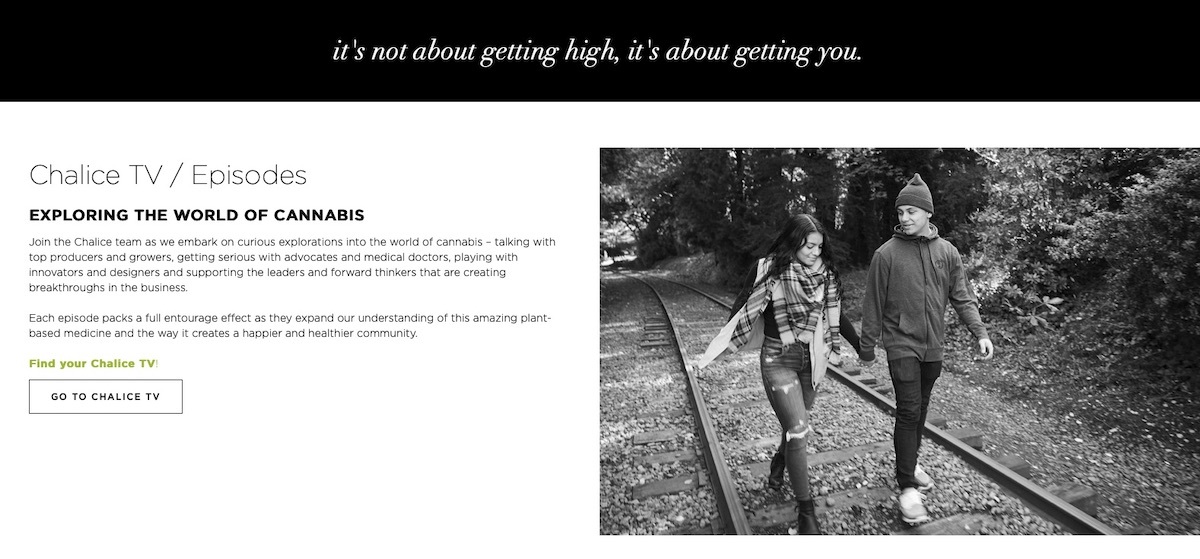 Chalice Farms, which has seven Oregon locations, shines in the content category. Their modern, clean site boasts original content in the form of marijuana news, educational articles, a self-titled magazine with monthly issues, and even a web-based TV channel with high-quality video content!

Original content in various formats like this is a fantastic way to connect with your consumers and boost the SEO of your site. Many of Chalice's videos tell the stories of how diverse people's lives have been bettered by cannabis, making cannabis wellness relatable to new consumers of all different backgrounds.

Mango Cannabis
Based in Oklahoma, this multi-location dispensary brand opts for a darker palette, with beautiful consistency in color, graphics, and imagery.
The Mango Cannabis website is optimized for mobile, easy to navigate, and features subtle animations that bring an otherwise static page to life. Their website also includes links to shop from any of their locations, with seamlessly-integrated Weedmaps menus.
Breeze Botanicals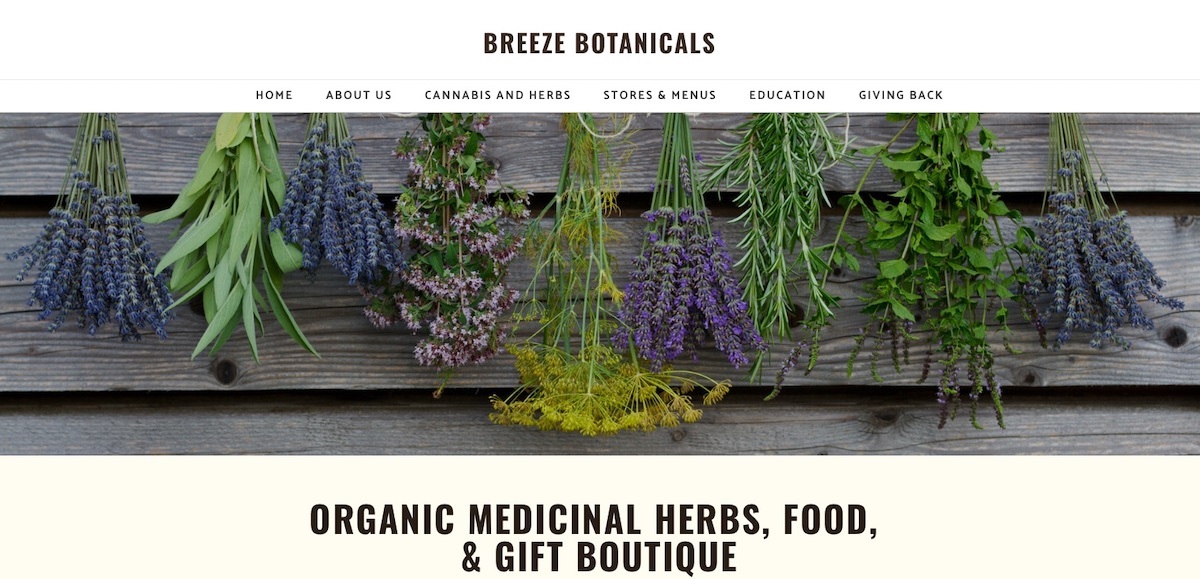 Oregon-based Breeze Botanicals promotes cannabis as just one of many beneficial herbs that they provide to their wellness-seeking customers. As well as having an online menu for their cannabis and hemp products, Breeze's two locations also feature local artisan crafts, gifts, and boutique body products.
Breeze also offers medicinal herbs in bulk, as well as custom-mixed compounding herbs, available as herbal tea blends or tinctures. Their website's extensive blogs, grower features, and other educational resources spotlight the benefits of herbs of all kinds.
Agri-Med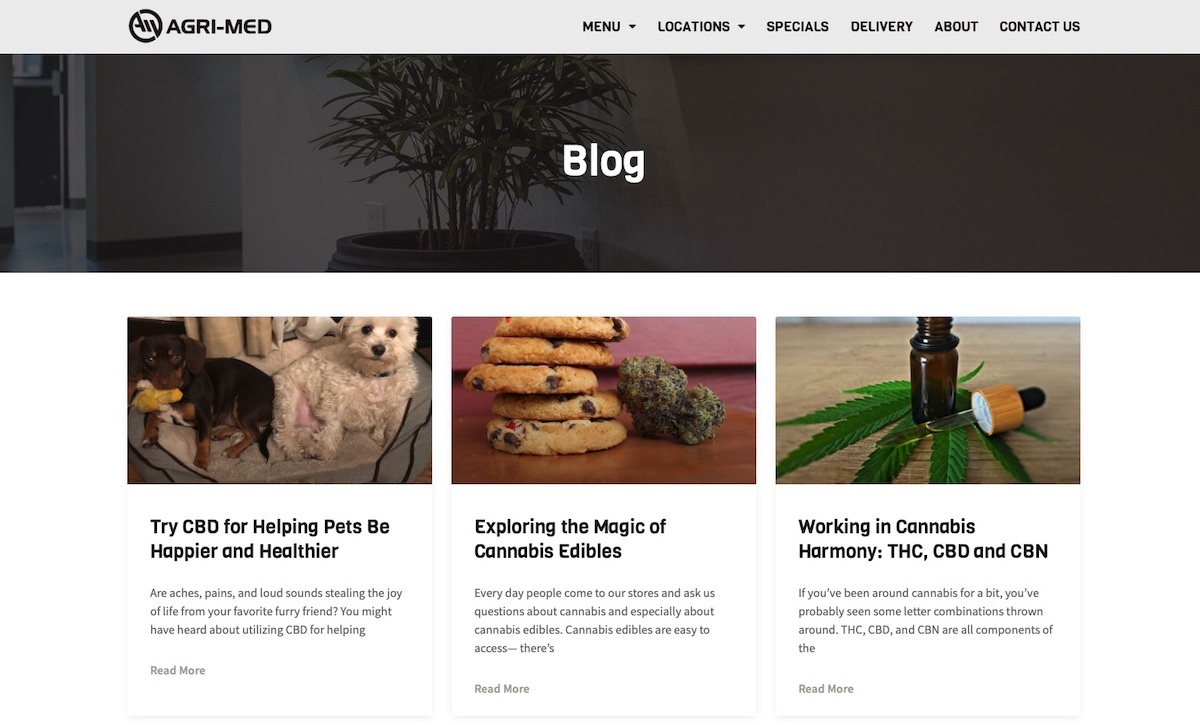 This "provisioning center," as Michigan dispensaries are called, has an attractive, black and white website with a professional, medical clinic vibe. Its Dutchie-linked online menu allows you to order ahead for in-store or drive-thru pick-up.
Agri-Med also offers delivery of either recreational or medical marijuana from any one of their three locations. Their blog page features varied educational cannabis topics, and high-quality photography throughout the site shows off the uniqueness of each of their provisionary storefronts.