A successful budtending team is one of the most influential aspects of any dispensary. Budtenders, or sales associates, are the people who engage customers, educate them on your store's cannabis products, and ultimately make sales.
Budtenders need to be welcoming, well-versed in the cannabis industry, experts on your product catalog, and capable of handling whatever the day may throw at them.
We sat down with four successful budtenders across different cannabis markets to find out what they're doing well and what they think others can do to become a better budtender.
Each of these budtenders has their own unique style, but they share some similarities as well. The secret to being a great budtender (and cannabis employee in general) doesn't lie in one single best practice, but instead, it's a combination of doing many little things well, doing them consistently, and always putting the customer or patient first.

Read this next!
Skill and Will: How to Combine Training and Team Building to Maximize Revenue
Let's dive into the interviews...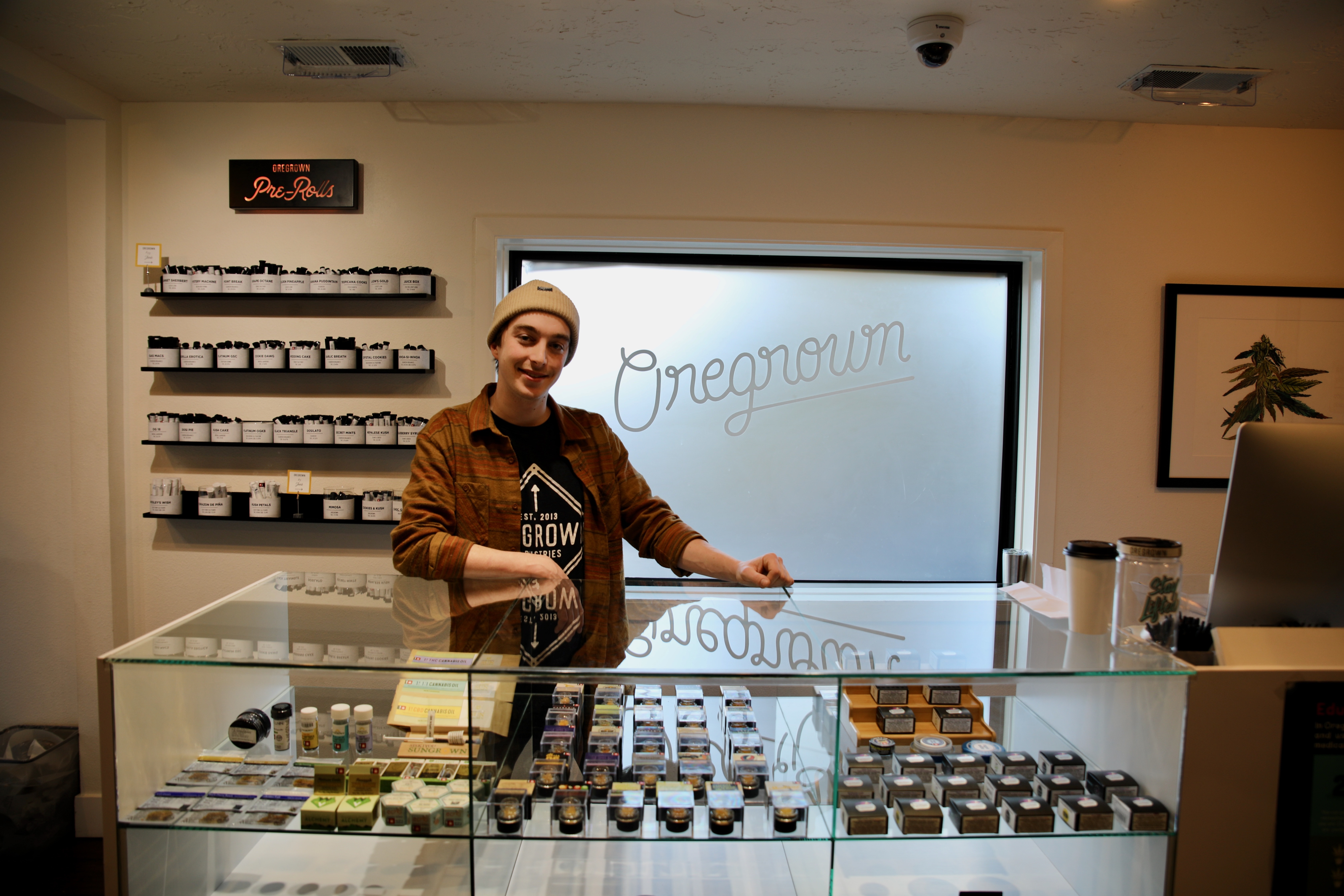 Hobey from Oregrown
Hobey was voted The Source 2019 Budtender of the Year in central Oregon as well as one of Green Entrepreneur's Top 25 Budtenders in America! He has since been promoted to General Manager of the Bend store.

What distinguishes a good budtender from an average budtender?
Hobey: It's a few different things:
Having a passion for cannabis.
Being an avid consumer.
Wanting to learn. It's not just cannabis experience, but industry experience and knowledge is important.
Knowing your competition and state's industry in whatever state you are working in. Who are the big players, who are the smaller guys, which stores are doing things well.
How do you become educated about cannabis and the industry?
Hobey: It comes from a lot of places, like reading about the industry either in newspapers, magazines, or online. Talking to people in the cannabis industry is especially important because there's not that much information out there and a lot of that information isn't accurate or is anecdotal. The more you can experience cannabis and learn from others, the more you can help people.
What do you do differently when working with a new customer vs. a returning customer?
Hobey: There's still plenty to educate a returning customer on, like with cannabis flower, I'll often tell them where and how it's grown and why it's priced the way it is. When I'm talking to a returning customer, I'm more talking about where the product is coming from, mentioning smaller farms, diving deeper into the care and love that goes into those products. With a newer customer, I would steer them toward a product that they could find in any store so that they can have consistency in what they are consuming as a beginner.

Mariana from House of Dank
Mariana originally planned to go to medical school, but she made the transition to cannabis when she realized the medicinal value of the plant.
How do you integrate data and technology into your customer's experiences?
Mariana: We try to get our patients in and out without having to make them wait in the lobby. I like seeing the customer's purchase history, the budtender that helped them last, etc. If a patient comes in with a purchase history that exclusively consists of edibles, I'm going to show them edibles, that just makes sense. When they come in without a purchase history, I can assume that they're a first time patient and they will probably want a breakdown of the store. Most patients have a set of products that they like so it's important to note that. It's also important to keep an eye on purchase limits. If I know that they're close to their limit, I'm not going to offer them ounce prices or other upsets if they only have a few grams left.
When you get a brand new patient who has no idea where to start, how do you guide them toward a product or consumption method that will make them come back?
Mariana: Our store is a little overwhelming at first, so I'll take them all around and break down everything and give some prices to gauge interests and price range. You have a lot of power in determining the customer experience as a budtender, so you can either look at a new customer and kind of ignore that fact, or you can make an effort to give them a great patient experience that will make them want to come back.
Hailie from Dr. Greenthumb's
Hailie was born and raised around cannabis. Today, she uses CBD for her own personal health. She is the shift lead/manager at Dr. Greenthumb's Sacramento.
What do you see as some of the biggest misconceptions about the cannabis industry?
Hailie: There are people who think that consuming cannabis will make you lazy and that's not accurate. What I want to do is shift that perception from being a skeptic to being open to new experiences. Customers come in and see our customer service skills and see how much we want to help them and there is an opportunity to change their outlook on the industry as a whole.
Customers are also oftentimes not aware of everything that is possible nowadays with cannabis. It's our job to educate them on things like indica vs. sativa vs. hybrid or that they can vape and not have a marijuana smell on them or edibles can be dosed properly so you don't get way too high. The industry is constantly evolving so that you can now enjoy cannabis and still be a productive adult.
What kind of cannabis retail environment are you trying to create at Dr. Greenthumb's?
Hailie: We want to have a welcoming environment. We want customers to open the doors and get a "Hi" from our receptionists and hear "How's your day going?" We let people sit and relax so they're not overwhelmed. We really want people to enjoy their time here. I want people to feel like they're walking into any typical retail store that they're used to going to, like a Nordstrom's. I've had bad experiences at cannabis dispensaries before where I've been ignored or not helped and I won't go back. I like to ask questions and get help from budtenders so I made sure that we're doing that here.
Mai from Cookies on Melrose
Mai waited in line with her resume for 2 hours to get an interview at Cookies. She ultimately got the job and has been growing her career in cannabis since.
How has the learning curve been in terms of understanding all of the cannabis strains and other products in the store?
Mai: The first day out on the floor was actually kind of nerve-wracking because I didn't know anything, but I had to learn quickly if I wanted to survive. So I did. I picked up on customer lingo and developed an understanding of cannabis culture. I think that was one of the most important things I figured out. From there I did research on the benefits of cannabis in terms of both CBD and THC. For me, I like to meditate and smoke so I'll offer that experience in the conversation with customers.
How do you satisfy new customers and keep them coming back?
Mai: Usually when people come in, I ask them, "What are you looking for?" Good budtenders need to consider how to cater to customers' needs. This is a growing market, might as well grow! Especially customers who are new to cannabis, it's our job to make them feel comfortable and educate them about the uses and benefits. Being able to understand where their fear is coming from helps alleviate that fear.
What technology are you using when engaging with customers and how do you use that to your advantage?
Mai: When a customer walks in they are checked in at the front desk and they are greeted by a budtender with an iPad. Most of the time I'll show them all of the flower that we have first. I can show them how much everything will cost so they don't have any anxiety or confusion about price. From there, I add products to the cart and they can go and pay and pick up their order. Another thing customers appreciate is being able to review their order, knowing exactly what's in their cart, and knowing exactly how what it costs or what they need to pull out of the ATM. It's an awe factor. People like that we have a piece of technology, using Flowhub, in our hands and it's an easy, integrative system. The iPad also helps ease customers into feeling better about cannabis usage.
Takeaways
Develop a strong product knowledge, but also know about the cannabis industry, your cannabis customer's demographics, and the market you are working in. Make sure to stay up-to-date on new information, new laws, and new products.
Distinguish from new or returning customers quickly and adjust your communication style accordingly. Avoid rushing a new customer and don't waste time explaining the basics to a regular.
Be passionate about this industry. Marijuana still has a stigma surrounding it for some people, but work to prove them wrong and show the benefits of cannabis. The industry has come a long way in recent years, but there is still plenty more work to do.
Engage in ongoing cannabis training. As the industry continues to change and grow, legalization expands, and cannabis businesses crop up, keep yourself up-to-date on all things cannabis.
Become a master of cannabis retail data. Understanding data at your dispensary will not only impress management, it will help your shop grow and thrive
To learn how Flowhub can help improve the customer experience at your dispensary, watch a demo.